It's hard to believe, but there was a time when Kurt Busch was downright awful at Bristol Motor Speedway.
Really.
Busch, looking for his fourth consecutive victory in the track's spring race this weekend and the winner of four of Bristol's past six Nextel Cup races, couldn't get out of his own way in his rookie season.
In 2001, he started 39th and finished 42nd in his first appearance there and started 26th and finished 25th in his second.
Some wondered whether the brash young driver with the aggressive racing style would ever win at the track. Now they wonder if he can lose.
"Early on, my right foot was very heavy. I had to race hard and I wanted to go quick and that hurt me at many places. Then at Bristol it killed me," Busch said.
"I made 50 laps my first race there. In the fall race my rookie year I think I was eight laps down running all on my own. That was my worst racetrack my rookie year and that definitely helped me develop as a driver."
So how has Busch been able to adapt his aggressive style to fit the save-your-car-until-the-end strategy that Bristol demands?
It wasn't easy.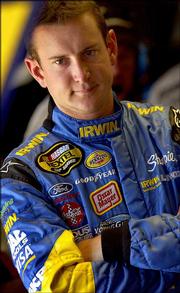 "It's a matter of protecting your race car at certain points and being overly aggressive in other points of the race," Busch said.
"The tough deal for some drivers is to know when to run a specific lap time -- to be as fast as you can go. But you can't do that lap time if there's somebody holding you up in front of you. You have to find that other guy's weakness.
"There are always going to be (cautions). You can't get too excited. You just have to wait for the race to come to you."
As Busch's success has blossomed at Bristol, so has his career. The track was the site of his first series win in 2002, when he beat wily veteran Jimmy Spencer, also a strong performer on the concrete track. He ended the year with four wins and finished third in points.
He swept both races in the 2003 season, when he again finished with four wins.
Last season, he used a win and an eighth-place finish there to help secure a spot in the inaugural Chase for the Nextel Cup 10-race championship playoff and went on to win his first series title.
Entering Sunday's Food City 500 (1:15 p.m. ET, Fox), Busch is fourth in points and trailing leader Jimmie Johnson by 105.
A visit to the site of a third of his 12 series wins is likely just what Busch and his Roush Racing team needs to challenge Johnson for the top spot.
"I get all juked up about it. Our team is definitely gassed up every time we go to Bristol. It's a fun racetrack for the team," Busch said.
"It's a love-hate relationship. Right now, our team definitely loves going there. We're due. We'll knock on wood, but we don't want that bad luck."
Even winning the series championship hasn't changed Busch or his team's approach to Bristol. They still tested at the track this season and are taking nothing for granted.
"The championship is not going to carry us through a win on a specific weekend," Busch said. "We still have to adjust on the car as if we had never won there before because every day presents a new challenge."
Copyright 2018 The Lawrence Journal-World. All rights reserved. This material may not be published, broadcast, rewritten or redistributed. We strive to uphold our values for every story published.