Los Angeles — Don't look now, but Beck is back on the street, and the street is back in Beck's music.
The singer had recorded "Que Onda Guero," a new song that describes the colorfully chaotic Los Angeles neighborhood where he spent part of his childhood. But there was something missing.
"The song felt kind of like it was in a vacuum," Beck said. "I was talking about all these things and I needed to bring a little bit of that world into the song. So I went down to my old street and just recorded things. I tried to find the 'vendedores,' the women who sell things in their shopping carts, and the guy with the Popsicle cart, the vegetable vans, the guys playing soccer, kids playing, all that stuff."
Sitting in a Cuban restaurant, Beck exudes a palpable affection for his old haunts and an excitement about the way he's brought it into his music.
Fans of the ever-shifting singer-songwriter are likely to share that enthusiasm about his new album, "Guero," especially those who drifted away as he followed his 1996 landmark, "Odelay," with a series of diverse, less immediately accessible records: the simple, Tropicalia-tinged "Mutations"; the high-concept funk workout "Midnite Vultures"; and the intimate, confessional "Sea Change."
Those three combined have not sold the 2 million-plus of "Odelay," whose rock/folk/hip-hop hybrids helped turn Beck from the quirky creator of the alternative radio hit "Loser" into the genre's baby-faced posterboy.
So "Guero," which came out Tuesday with a blast of fuzz guitar, playful rap tracks and dense, animated soundscapes from the "Odelay" production team the Dust Brothers, could easily be seen as a bid to reclaim his old popularity
"No," Beck objects with a laugh. "I would have made a skinny-pants record with chang-chang-chang-chang-chang guitars or something. I really tried to steer from stuff that I think of as trendy. Some of the songs to me are out-and-out 1991."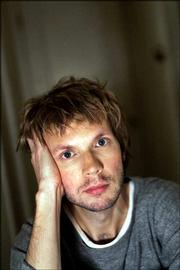 Anyway, he's not eager to relive his moment in the sun.
"I maybe had a couple of months where I'd walk in to get a sandwich and the guy behind the counter would go, 'Hey, Mr. Beck,' and that was very uncomfortable. I've always tried to focus on writing songs and making records and my singing and pushing things forward for myself, staying awake creatively, all those things. And all the other stuff is peripheral and completely out of my control.
"I don't really think of myself in the mainstream at all, but I know I'm not considered hip in that hipster world either, so I'm sort of in my own nether zone or something. Which maybe isn't a bad thing.... I don't like having to own up to any kind of scene or live up to some kind of regulations."
The new album's title reflects that image of the outsider.
"I think literally it means 'blondie,' but it's like 'white boy.' It's the kind of thing I got yelled at me growing up. And friends of mine. So it's kind of a funny L.A. thing that certain people can relate to."
Copyright 2018 The Lawrence Journal-World. All rights reserved. This material may not be published, broadcast, rewritten or redistributed. We strive to uphold our values for every story published.