Lawrence -- though clearly stocked with coffee houses and coffee-house denizens -- appears to be turning into a tea drinker's kind of town.
Ask any barista: The consumption of teas of all types is surging.
"Overall, tea is definitely more popular than it used to be," says Caterina Benalcazar, a barista at La Prima Tazza, 638 Mass.
"People are branching out into different kinds of teas and herbal infusions, not just sticking with the regular English Breakfast and Earl Grey standards any more."
That's why the coffee house caters to its tea drinkers by offering about 40 different kinds of tea.
The growing taste for tea among Lawrence residents is part of a larger American trend, according to Gary Patterson, co-owner of House of Cha, 21 W. Ninth St., a tea house that opened two years ago.
And it's a trend that's on the upswing.
"If you go to any of the big cities on the coasts -- New York, L.A., San Francisco -- tea is huge. I just thought it would be cool to bring it back to Lawrence," Patterson says.
Lawrence tea drinkers say they consume tea for a variety of reasons, but chief among them seems to be all the attention it has received for its reportedly healthful qualities.
"In recent years, there's been a lot of publicity related to studies that have been done that address the health benefits of tea, and consumers are becoming more aware of them," says Nancy O'Connor, director of education and outreach at the Community Mercantile Co-op, 901 Iowa.
And this is one case where the press reports are more than hype.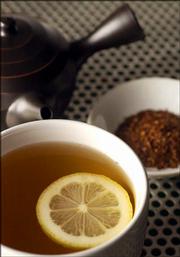 "Tea is very good for you, and mostly the quality that we look at in tea is the antioxidants. They help repair DNA damage that is caused by free radicals, and free radicals are caused by all of the things in our world that damage the makeup of our bodies," says O'Connor, who has a master's degree in health education from Kansas University.
Green tea is especially high in antioxidants, according to O'Connor. It is less processed than black tea and also contains less caffeine -- another selling point for many consumers.
Like Scott Zimmerman, 24, a KU senior from Overland Park.
"I drink iced, decaffeinated Tazo Lotus green tea. I was drinking a lot of coffee, and it just wasn't working out for me, so I switched to tea. I read that green tea has a lot of antioxidant properties, and it tastes good," Zimmerman says.
He drinks 48 to 72 ounces of iced green tea each day.
"Before, I was drinking probably eight to 10 shots of espresso a day in coffee drinks. I feel a lot better now. And since I've switched to green tea, I've noticed it's helped clear my skin up," Zimmerman says.
New scientific studies point to evidence that tea has healing properties. While all tea appears to be healthful to drink, green tea contains the highest level of polyphenols, which are known for their antioxidant quality.Among findings presented at the Third International Scientific Symposium on Tea & Human Health, presented by the U.S. Department of Agriculture in 2002, are:¢ Tea may lower cholesterol when combined with a heart-healthy diet.¢ Tea may improve heart health.¢ Tea may reduce damage to DNA caused by smoking.¢ Tea may reduce rectal cancer risk in women.Source: WebMD.com
Red, white tea on horizon
While green tea remains popular, other types of tea are rapidly gaining ground among consumers.
"There was a big thing about green tea, which is fairly common tea. When you go to a Chinese restaurant, that's what you get. But now people are learning that there's white tea," says Bianca Storlazzi, the Community Mercantile's bulk herb and tea buyer.
White tea is derived from the same plant as black and green teas, but it comes from the earliest picking of tea leaves.
It's the highest in antioxidants and the lowest in caffeine, according to Storlazzi.
"It's more expensive, because it's only that one (first) picking. I have a really nice one that's blended locally. She puts Chinese chamomile in it, and it's very nice," Storlazzi says.
The co-op buys five kinds of locally blended teas -- including Silver Needle Tea, the white tea with Chinese chamomile -- from Annie Linn, co-owner of Fresh Coffee Roastery, 601 Kasold Drive.
Another drink that American consumers are discovering is red tea, made from the Rooibos bush.
"It's an African bush tea, not actually a tea plant. It's getting popular because it has no caffeine in it. But I don't think it has much of an antioxidant quality," Storlazzi says.
Despite the growing variety of tea that's available, some tea drinkers are sticking with what they know best.
Andrew Danby, 35, continues to drink black tea with milk, no sugar.
"I'll have two cups at breakfast, probably a cup at 11 o'clock in the morning, tea or coffee with lunch, and then perhaps another cup at four in the afternoon and another cup at six in the evening," says Danby, a Lawrence resident who's a native of Great Britain.
Does he drink tea because of its purported health benefits?
"I should know about these things, but I don't pay attention," says Danby, a research chemist at KU.
"It's just because I was brought up drinking tea."
Copyright 2018 The Lawrence Journal-World. All rights reserved. This material may not be published, broadcast, rewritten or redistributed. We strive to uphold our values for every story published.