Topeka — Kansas University All-American basketball forward Wayne Simien was honored today in the Capitol as a great athlete and role model.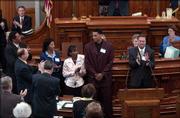 Proclamations signed by Gov. Kathleen Sebelius and approved in the House and Senate praised Simien for his play, academic skills and high morals.
Rep. Kenny Wilk, R-Lansing, described Simien of Leavenworth as "the very best Kansas has to offer. He is a true All-American citizen, human being and outstanding ambassador for the state of Kansas."
Simien, accompanied by his family and KU Coach Bill Self, spoke briefly, saying, "It has become quite a cliche, but there's no place like home."
Self said as great a ballplayer as Simien is, he is an even greater person.
"I never coached a better kid," he said.
---
For more on this story, see the 6News reports at 6 p.m. and 10 p.m. on Sunflower Broadband's Channel 6 and pick up a copy of Thursday's J-W.
Copyright 2018 The Lawrence Journal-World. All rights reserved. This material may not be published, broadcast, rewritten or redistributed. We strive to uphold our values for every story published.