Pearson Government Solutions plans to stick around awhile.
The company announced Tuesday that it had signed a 10-year lease to remain at its leased campus in the East Hills Business Park, where it has grown into the Lawrence's largest private-sector employer after arriving in town a decade ago.
Pearson leases two buildings with a total of 195,000 square feet at East Hills, where 1,800 employees work in call centers that handle 30 government contracts.
"It's been a great place to do business, and everyone's accommodated our growth, so we're happy to stay there," said David Hakensen, a Pearson spokesman in Minneapolis. "We have a good work force there, we've got some great projects that we're doing there, so we're going to stay put."
The news comes a week after Pearson launched its new National Contact Center for the U.S. Equal Employment Opportunity Commission, a 36-employee center that handles inquiries regarding workplace discrimination.
The 36 new jobs, and others expected to be added as the $4.9 million contract evolves, are among the estimated 100 jobs Pearson plans to add to its operations through the end of 2005.
Most of the other new jobs will come as part of an $80 million contract announced last month, under which Pearson will handle calls regarding student financial aid on behalf of the U.S. Department of Education. Some of the work on that contract will go to another Pearson center in Iowa, but some will be in Lawrence.
"And there's some new business that's on the radar but we haven't gotten yet," Hakensen said. "It makes sense to do this -- it was just time for the lease to be signed and extended."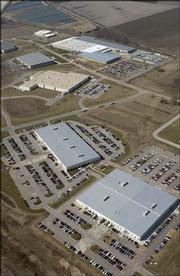 The buildings are owned by Douglas County Development Inc., a nonprofit consortium of banks that operates the park. The park is owned by Douglas County, and its infrastructure -- including roads and sewers -- is provided by the city of Lawrence.
Lynn Parman, director of economic development for the Lawrence Chamber of Commerce, declined to reveal financial terms of the new 10-year lease but did say it would continue to pay off for the community -- through Pearson's continued investment and addition of jobs that help contribute to Lawrence's quality of life.
Pearson had been operating under three separate, shorter-term leases that were consolidated this month into a single lease that offers the company and the business park security for the coming decade, she said.
"It was a pretty competitive situation," Parman said. "They could have pretty easily moved those jobs to another facility. ...
"We wanted them to stay here and continue to grow here."
Copyright 2018 The Lawrence Journal-World. All rights reserved. This material may not be published, broadcast, rewritten or redistributed. We strive to uphold our values for every story published.