The Lawrence Alternative High School program will shut down in June, but the driving force behind it will not.
Principal Judy Juneau will continue to work in the district part-time next year, to help her students make the transition back into a traditional high school setting.
"I'm going to be there for them. I'm going to be their advocate," Juneau said. "I'm going to be there to help them communicate what is and is not working for them."
Officials with the Lawrence school district announced in December they would offer alternative education programs in the city's high schools in lieu of operating LAHS next year.
About 40 students will be transferred from the alternative school to their home high school.
Juneau describes her new position as a liaison between students and staff at the high schools but says she'll have no official title.
"I'm not going to be a part of staff at Lawrence High, and I'm not going to be a part of the staff at Free State," Juneau said. "I'm going to be someone at both schools that students can turn to and they can trust."
Her decision salvaged at least one high school education.
When Jamea Mills, a sophomore at LAHS, heard the school would close, she made up her mind to drop out at the end of the year.
"I was probably going to get my GED," Mills said, "or do the diploma completion program or something."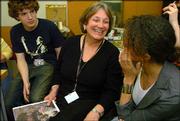 Then she heard Juneau was sticking around.
"She said she was going to be at Lawrence High and Free State, just walking around helping people, and that actually helped me make my decision to go back to LHS," Mills said.
Despite Juneau's future status as a part-time employee, officially she'll be retired in June.
"This is really a nice mix for me," Juneau said. "I can take early retirement, but I can stay connected with this group of kids."
Two decades have passed since Juneau accepted her first job in the Lawrence school district as a special education teacher at LHS.
She taught four years before taking the reins of the alternative school in 1994, and in that time staff members say she's helped mold them into a pseudo family.
"And now it's like our family is breaking up," said Betty Lynn, a counselor at LAHS, who has worked with Juneau for 16 years.
"It's bittersweet," Lynn said. "I'll miss her a lot. She's become a good friend. You know, after 16 years, there's a lot of water under the bridge. But I'm happy for her. And I'm happy she'll be involved with the students next year."
Some LAHS students said they feel lost in large schools like LHS and Free State.
"No one makes eye contact with you. You're just a blur in the hallway," said Lacy Webb, a junior at LAHS. "But just the fact that she's (Juneau) going to be there just puts relief on everybody because you know that you can go to her and trust her. She will do whatever she can to help you out. If she has to come and sit in every one of your classrooms, she will."
Juneau said she wanted to savor the 12 weeks she has left as principal, but she can't help but look forward to the future.
"I think it's going to be fun to not have such a rigid routine. I mean, every time I talk to people who are retired, they smile a lot and they look rested, and you know, there's just something very appealing about that."
Copyright 2018 The Lawrence Journal-World. All rights reserved. This material may not be published, broadcast, rewritten or redistributed. We strive to uphold our values for every story published.