Baghdad, Iraq — They argued. They wrangled. They pulled the plug on the live TV feed and kicked out reporters. And some of them later walked out themselves.
The second meeting ever of Iraq's parliament was its stormiest -- as lawmakers failed Tuesday to choose a speaker in an impasse that exposed tensions among Shiites, Sunnis and Kurds.
The turmoil in the National Assembly, two months after landmark elections, raised concerns about Iraq's efforts to build a new government.
Some politicians argued the delay could force them to request a six-month extension to the Aug. 15 deadline for drafting a permanent constitution -- a vital step in organizing the next round of elections. "I think the time won't be enough. We might need an extension," said Ali al-Dabagh, a member of the Shiite-led United Iraqi Alliance.
The Sunni Arab minority -- dominant under former dictator Saddam Hussein and believed to be the backbone of the insurgency -- was given until Sunday to come up with a candidate to serve as speaker of the 275-seat parliament.
The United Iraqi Alliance and the Kurdish coalition want a Sunni Arab to hold the position as a way of healing rifts with the Sunnis, many of whom boycotted the Jan. 30 elections or simply feared attacks at the polls.
"We saw that things were confused today, so we gave (the Sunnis) a last chance," said Hussein al-Sadr, a Shiite cleric and member of interim Prime Minister Ayad Allawi's coalition. "We expect the Sunni Arab brothers to nominate their candidate. Otherwise, we will vote on a candidate on Sunday."
More meetings were scheduled for this week. "There's a consensus that the talks should continue tonight and in the coming days so that Sunday's session will be better," Alliance negotiator Abdul Karim al-Anzi said.
Iraqis, already frustrated with drawn-out negotiations, were angered by the meeting.
"They haven't been able to even name a parliament speaker, so how will they rule Iraq when they're only after their personal interests and gains?" said 35-year-old Sunni Sahib Jassim. "They don't care about the Iraqi people."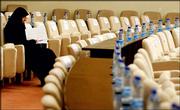 In an interview Sunday on CNN, Army Gen. John Abizaid, also expressed concern, saying: "The more uncertainty, the greater chance for escalated violence."
Negotiators spent much of the morning trying to persuade interim President Ghazi al-Yawer, a Sunni Arab, to take the speaker's post. But he refused, and is holding out for one of two vice presidential spots.
"With the small number of Sunni Arabs in the assembly, this post won't put us in a position to strike a balance," al-Yawer said.
Ammar Wajeeh of the Sunnis' Iraqi Islamic Party said that in addition to al-Yawer, Alliance and Kurdish officials offered the speaker's post to Minister of Industry Hajim al-Hassani, who refused it partly because it was more administrative than political.
The Sunnis have put forth Adnan al-Janabi, who ran on Allawi's ticket, Wajeeh said. But the Alliance objected because al-Janabi's brother once worked as a senior official of the ruling party under Saddam, he added.
Copyright 2018 The Associated Press. All rights reserved. This material may not be published, broadcast, rewritten or redistributed. We strive to uphold our values for every story published.