Gunung Sitoli, Indonesia — The death toll from a powerful earthquake that devastated a remote Indonesian island rose to an estimated 1,000 today, according to Sumatra's governor, as rescuers searched frantically through collapsed buildings for survivors.
Bodies were still being dug from ruins of houses and shops early today and laid out in front of churches and mosques.
Most of the deaths from Monday night's 8.7-magnitude earthquake in the Indian Ocean were on the Sumatran island of Nias, 75 miles south of the epicenter.
The death toll has risen steadily. Officials put it at 330 Tuesday. But Sumatra Gov. Rizal Nurdin estimated the figure had risen to 1,000 today. Government officials have said it could climb as high as 2,000.
In Nias island's main town of Gunung Sitoli, a makeshift triage center was set up on a soccer field next to a palm-fringed Indian Ocean beach. Thirteen patients spent the night under a corrugated iron roof hoping to get on a helicopter flight to a hospital on Indonesia's nearest main island of Sumatra.
One man spent the night lying next to his wife, one of the quake victims, planning to bury her later today.
"What will I tell my children?" said Datot Mendra, 55, a restaurant owner said Tuesday. "I can't face it. My faith in Jesus is helping me through this."
Mendra's wife was among some 20 bodies wrapped in white sheets, candles flickering at their heads, laid out on the street outside the Santa Maria church in this predominantly Roman Catholic island.
Dave Jenkins, a New Zealand physician who runs the relief agency SurfAid International in western Sumatra, said he feared for about 10,000 people living on the tiny Banyak Islands, close to the quake's epicenter. By late Tuesday, contact had not been made with the islands.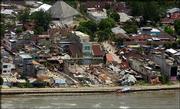 Nias appeared to have borne the brunt of the tremor, but neighboring islands also were hit and details of casualties there were sketchy.
Frantic rescue efforts
While the scene outside the Santa Maria church Tuesday was almost serene, elsewhere on this island of 600,000 people the atmosphere was anything but. Rescue workers working by candles and flashlight hunted through smoldering rubble for survivors in flattened buildings. Power was out, and electric cables lay tangled in the street.
Little heavy machinery was available, so families frantically searching for loved ones used crow bars and their bare hands to lift heavy chunks of concrete.
Smoke drifted out of piles of rubble and concrete homes where walls had folded in on themselves, almost certainly crushing to death anybody caught inside. A steeple had fallen from a church.
Little relief available
Although most of Indonesia is Muslim, Christianity persists in some areas -- a vestige of Dutch colonization. The Nias islanders, particularly the well-organized southern villages, initially put up strong resistance when the Dutch tried to take control. But the Dutch finally conquered the island in 1909, and then Nias slowly started to convert to Christianity.
Monday's quake, which stuck an hour before midnight, toppled every building in the main street of Gunung Sitoli.
On Tuesday, people swarmed around U.N. helicopters as they landed to deliver relief supplies, but food and water were in short supply.
The Dec. 26 Indian Ocean epic earthquake and tsunami, which killed more than 126,000 in Indonesia's Aceh province on Sumatra and thousands more throughout the region, left 340 dead and 10,000 homeless on Nias.
But Monday's quake appeared to give this island its almost undivided attention.
"It was stronger than the Dec. 26 quake," a survivor who identified himself as Ebenezer said Tuesday. "In one minute, everything was destroyed. No one had a chance to run."
Copyright 2018 The Associated Press. All rights reserved. This material may not be published, broadcast, rewritten or redistributed. We strive to uphold our values for every story published.