When food writer Mark Bittman cooks pork, it's easy for him to bring into play the skills associated with his reputation as "the Minimalist," the title of his weekly column in The New York Times about streamlined cooking.
He says he finds pork's distinctive flavor marries well with countless others, so his ingredient list for pork dishes tends not to be lengthy or obscure, and cooking time is short.
"I rely heavily on fresh ingredients, but having the right pantry staples around makes daily life much easier," he says. In this recipe, he gets great flavor dividends from chipotle chilies and cilantro, plus tomatoes and onion.
This dish would make a tasty excuse to open the grilling season (if that ever closed), but it also can be cooked just as quickly under the broiler.
Grilled pork chops with chipotle sauce
(Preparation and cooking time about 40 minutes)
2 tablespoons neutral oil, like corn or canola
1 medium white onion, peeled and chopped
Salt and pepper
2 cups cored and chopped tomatoes, preferably fresh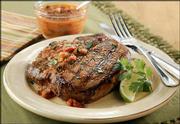 1/2 cup water
2 dried chipotle chilies, or to taste
1/4 cup chopped fresh cilantro leaves
4 bone-in pork loin chops, 3/4-inch thick (about 2 pounds total)
Chopped fresh cilantro leaves for garnish
4 lime wedges, or more, as desired
Put oil in medium saucepan or skillet and turn heat to medium. When oil is hot, add onion, salt and pepper, and cook, stirring occasionally, until onion begins to brown at the edges, 5 to 10 minutes. Add the chilies, tomatoes and 1/2 cup water and adjust the heat so the mixture simmers steadily but not violently. Cook about 15 minutes, stirring occasionally, or until the chilies are soft and the tomatoes are broken up.
Meanwhile, start a charcoal or wood fire or preheat gas grill or broiler; the fire should be only moderately hot, and the rack about 6 inches from the heat source.
When sauce is ready, taste, and add more salt and pepper if necessary. Cool for a few minutes, then remove the stems from the chipotles (if you remove some of the seeds the salsa will not be quite as fiery). Put the mixture in a blender and puree.
Season pork with salt and pepper and grill for about 5 minutes per side, or until nearly done; brush heavily with the chipotle sauce on both sides, and cook just another minute or 2. Serve pork garnished with cilantro and lime wedges, passing the remaining sauce of the side.
Makes 4 servings.
Copyright 2018 The Associated Press. All rights reserved. This material may not be published, broadcast, rewritten or redistributed. We strive to uphold our values for every story published.