SOUTH BEND, IND. — Just as the college basketball season is coming to an end, it's time for the first televised preview of next year's freshmen.
The McDonald's All-American game, which airs live at 7 tonight on ESPN (Sunflower Broadband Channel 33), will be the first chance for Kansas University fans to see Jayhawk recruits Micah Downs, Mario Chalmers and Julian Wright hit the hardwood.
Even better is the fact they'll be on the same team and, for most of the game, in the same rotation for West coach Al Rhodes.
"I've got them on the same playing unit," Rhodes said. "I think it makes sense that they're gonna be playing together to promote that."
The East team has a distinct size advantage and boasts arguably the nation's top three high school prospects -- guard Louis Williams, forward Gerald Green and forward Josh McRoberts. But the West defense could be too tough to overcome.
"The main thing is to just get across to the team that most of them are used to being the scorers on their team," Rhodes said.
"And that when they're all playing together, somebody has to set the screens, somebody has to bring the ball up the floor and somebody has to play defense," Rhodes said.
The KU recruits each enjoyed probably their best practice session of the week Tuesday, with everyone showing off the skills that make them so highly touted.
Downs had his most aggressive performance offensively, canning a slew of three-point shots, including a couple from a few feet beyond the arc. He also showed the ability to drive to the basket and finish despite getting bumped in the air and showed good decision-making skills, passing up a chance to score on a two-on-one break and instead throwing a lob to Texas recruit C.J. Miles, who threw it home with two hands.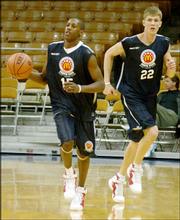 Wright, who has worked during the past year to develop his mid-range jump shot, showed consistency with it Tuesday. He even stroked a couple threes, but, as has been the case all week, his best showing was on the defensive end, where he gave Notre Dame-bound big man Luke Zeller fits.
Wright consistently cut off passing lanes and denied Zeller any clean looks. His offensive highlight of the day came on a drive to the hole, where, after losing the ball on the way up, he recovered it with his left hand and banked it in before his feet hit the floor.
Chalmers, after showing off his smooth shooting touch Sunday and Monday, displayed his true point-guard skills Tuesday. He blew by Oklahoma State recruit Byron Eaton repeatedly to create opportunities for his teammates. On one play, he flew by Eaton, went to the rim and, instead of shooting, wrapped the ball around Zeller in mid-air to Amir Johnson for an uncontested two-handed slam.
Playing with the most elite group of teammates in the country has given Chalmers even more of a chance to flourish and display his playmaking skills.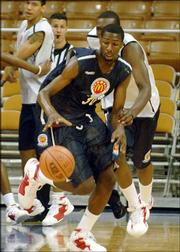 The KU recruits also have left quite an impression on the nine players they have run with in practice during the past three days.
"Julian's about the longest thing I've ever seen in my life, because when you think you get by him, he goes up and blocks your shot," UNC recruit Tyler Hansbrough said. "Micah, he's a slasher and he can get off the floor pretty well. So Kansas has got some pretty good recruits lined up."
Johnson even said Chalmers was the best point guard at the McDonald's game.
All three of the recruits also will be on display on the tape-delayed broadcast of Monday night's Powerade Jam Fest, at 6 tonight on ESPN. Chalmers won the three-point title, becoming the first KU recruit to do so, while Downs and Wright bowed out of the dunk contest after one round.
¢
Wright's wrist OK: Wright banged his wrist against the rim during warmups for Monday night's dunk contest and spent the rest of the evening icing it down. After talking to KU coach Bill Self later Monday night and assuring him everything was all right, he said the wrist was getting better Tuesday and shouldn't hinder him tonight.
Copyright 2018 The Lawrence Journal-World. All rights reserved. This material may not be published, broadcast, rewritten or redistributed. We strive to uphold our values for every story published.