SOUTH BEND, IND. — Aside from the thousands of fans that packed the humid gym to capacity at Bethel College on Monday night, Kansas University men's basketball coach Bill Self was the first to hear the good news.
Seconds after KU recruit Mario Chalmers won the McDonald's All-American Three-Point Shootout -- ousting North Carolina-bound Danny Green, 17-14 -- his father, Ronnie Chalmers, called the KU coach.
"He just started screaming into the phone, and he was excited," the elder Chalmers said, chuckling.
Self then called Mario Chalmers and left him a voicemail congratulating him, which Chalmers got when he returned to the locker room.
His future coach might have acted surprised by the outcome, but Chalmers' current coach, Ronnie Chalmers, could see it coming.
"Mario's making a believer out of me," the elder Chalmers said. "He told me when he came down here that he wanted to get in the slam-dunk contest, but he had a little slight ankle sprain during our regional tournament. He decided he was gonna get in the three-point shooting contest and he said, "Dad, I'm gonna win that three-point shooting contest.'
"He's a competitor, and since he couldn't do the slam dunk, he decided to go all-out and win the three-point shooting contest. He's been putting on a three-point clinic all year long."
In the first two days of practices for the McDonald's All-American Game, Mario Chalmers has shown his exceptional hops. He didn't get to display them Monday night alongside future teammates Julian Wright and Micah Downs -- who both competed in the slam-dunk challenge -- but this was a pretty nice consolation prize.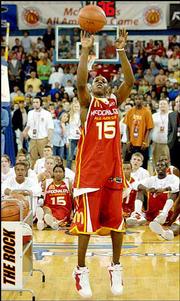 "Yeah, it makes up for it, but I really wanted to be in the dunk contest. I hurt my ankle, so I just passed it up," Chalmers said. "The first round, I was too fast, and I had to slow it up."
In that opening round, Chalmers was pitted against another of Roy Williams' UNC recruits, Chicago point guard Bobby Frasor. While Frasor struggled -- scoring just 11 of a possible 30 points -- Chalmers got on some nice streaks and recorded an 18, which also was the highest score.
In the finals, Chalmers missed his first four shots, but made up for it by stroking five of his next six, and it was all money from there.
"I thought that he had better rotation on it, and he seemed more focused on it than I'd seen him in awhile," Ronnie Chalmers said. "I just think he's gonna be motivated to go back and finish his high school career."
Mario Chalmers will need the motivation, too, as he'll hit the floor for the Alaska state quarterfinals at 8:30 Thursday night -- or about six hours after his plane is scheduled to land in Anchorage.
While Chalmers sizzled from beyond the arc, it was a shorter performance for Wright and Downs in the evening's main event -- the slam-dunk challenge, which was won by Oklahoma State-bound Gerald Green.
Wright connected after cradling the ball and swinging his arm around into a reverse slam on his first attempt, but couldn't connect on a reverse-windmill in his second try. He tweaked his wrist a little bit after hitting it on the rim in warmups, and iced it the remainder of the evening.
Downs threw home a nice windmill that he caught in mid-air after tossing it off the floor, but missed on a 360-degree attempt for his second stuff.
The three recruits, who have had more than their share of impressive individual moments so far this week, quickly are becoming a tight-knit group.
"The three of them are gonna turn Kansas out next year," Ronnie Chalmers said. "They've clicked and had a good time, not only on the court but off of it."
Copyright 2018 The Lawrence Journal-World. All rights reserved. This material may not be published, broadcast, rewritten or redistributed. We strive to uphold our values for every story published.