New Orleans — His team on the verge of getting routed for a third straight time, LeBron James dribbled downcourt with a disgusted look on his face and quickly drilled a jumper from just inside the three-point line.
"I just wanted to get in the game and put us in a position to win," James said. "It was time for me to shoot the ball, and everytime I shoot I feel like it is going in -- that's just my confidence level."
For nearly the entire fourth quarter, the ball did go in whenever James shot. He scored 17 of his 44 points in the final period of regulation Monday night, when the Cleveland Cavaliers erased a 17-point deficit en route to a 109-108 overtime victory over the New Orleans Hornets.
James' only big miss came when he tried to tie the game with a tough jumper from the right wing late in overtime. But Drew Gooden, who hadn't scored since the first quarter, grabbed the rebound in traffic and scored as he was fouled with 6.4 seconds left, converting a three-point play that proved to be the game-winner.
Dan Dickau's driving floater that could have won the game for New Orleans in the final seconds bounced wide off the glass.
Dickau said he wanted to pass off the drive, but James stayed in the passing lane to prevent the ball from going to J.R. Smith, who had led the Hornets with 22 points.
Gooden grabbed the rebound and hurled it toward the rafters as the buzzer sounded, ending Cleveland's 11-game road losing streak and two-game skid overall.
"We had faith. We made a good run. I had a chance to win the game," Gooden said. "They were on their heels down the stretch in the fourth quarter, so I think the tables turned."
The Hornets led 84-67 early in the fourth quarter before James scored 14 points during a 25-7 run that vaulted Cleveland into the lead. He hit on drives, jumpers, and four free throws.
"You could see it in his eyes," Hornets coach Byron Scott said. "The thing that disappoints me is we just took a back seat. We didn't challenge him or their whole team."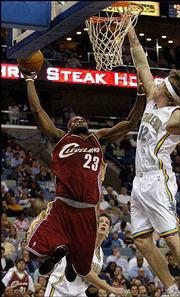 Mavericks 95, Pistons 88
Auburn Hills, Mich. -- Josh Howard scored 24 points, and Dirk Nowitzki added 22 as Dallas beat slumping Detroit. The Mavericks have won six of seven, while the defending champions lost for the fourth time in five games. Reserve Keith Van Horn added 17 points for Dallas, while Chauncey Billups led the Pistons with 26, and Richard Hamilton added 21. The Mavericks reserves outscored Detroit's 26-2.
Nets 95, Bobcats 91
Charlotte, N.C. -- Vince Carter scored 39 points, and New Jersey hung on to beat the Bobcats. Carter, who scored 15 of the Nets' 19 points in the first quarter, helped New Jersey snap a two-game losing streak. Nenad Krstic added 15 points and 15 rebounds for the Nets, who completed a four-game season sweep of the Bobcats.
Magic 109, Hawks 102
Orlando -- Steve Francis had 30 points, 10 assists and six rebounds, and Grant Hill and Dwight Howard each had a double-double in just the Magic's second victory in 12 games. The Magic snapped a three-game skid as they try to keep pace with Philadelphia and Indiana, who hold the lead for the final two playoff spots in the Eastern Conference. Orlando had lost 10 of 11.
Pacers 90, Bucks 76
Milwaukee -- Reggie Miller scored 12 of his 22 points in the third quarter to lead Indiana over Milwaukee. Miller made five of seven three-pointers and sat out the entire fourth quarter as the Pacers held a comfortable lead.
Bulls 94, Grizzlies 86
Chicago -- Eddy Curry scored 25 points, and the Bulls nearly blew an 18-point fourth quarter lead before beating the Grizzlies for their sixth straight victory. Ben Gordon added 17 points for the Bulls, while Tyson Chandler had 14 rebounds and scored 13 points, including a pair of free throws with 12.4 seconds left to put Chicago up six.
Rockets 99, Jazz 85
Salt Lake City -- Tracy McGrady scored 44 points, and Mike James had 14 of his 16 in the second half for Houston, which won for just the second time in the last 17 meetings at Utah.
Suns 123, Nuggets 114
Phoenix -- Joe Johnson had eight points and Steve Nash five during a fourth-quarter run that carried Phoenix over Denver. The Suns snapped a Denver winning streak for the second time this month. The Nuggets had won eight straight when Phoenix beat them, 106-101, on March 13 in Denver, and they won their next six before visiting Phoenix.
Wizards 114, Trail Blazers 106
Portland, Ore. -- Gilbert Arenas scored 28 points, and Larry Hughes added 25 to lead Washington over Portland. Shareef Abdur-Rahim had 19 points and eight rebounds, and rookie Sebastian Telfair scored 17 for the Blazers.
Kings 118, 76ers 109
Sacramento, Calif. -- Chris Webber had 20 points and 10 rebounds in his first game back at Arco Arena since the Kings traded him last month, but Cuttino Mobley scored 30 points in the Kings' victory. Webber's homecoming was more bitter than sweet. The sellout crowd showered him with constant cheers, including a lengthy standing ovation during pregame introductions -- but the Kings controlled most of the second half with the up-tempo offense Webber so loved to play.
Copyright 2018 The Associated Press. All rights reserved. This material may not be published, broadcast, rewritten or redistributed. We strive to uphold our values for every story published.