Shut down since in October for greens replacement, Alvamar Public golf course will reopen soon.
"We're shooting for mid- to late April," said Dick Stuntz, superintendent of both Alvamar Public and adjacent Alvamar Country Club. "The greens are really doing well."
Alvamar Public opened in 1968 and quickly became a popular links destination because of its zoysia fairways and its Cohansey bentgrass greens. The fairways stood the test of time. The greens didn't.
"The problem is that Cohansey is a slow-putting bentgrass," Stuntz said, "and the demand now is for greater and greater putting speed. That's the major reason we did it."
In early October of 2004, Alvamar's maintenance staff, headed by Stuntz, fumigated all 18 greens and later planted Pickseed 96-2, a Crenshaw bentgrass.
"It's a second-generation Crenshaw," Stuntz said "We have first-generation Crenshaw on the country club course, and we've been very pleased with it."
Stuntz estimates his crews have mowed the new greens 12 or 13 times at ever-lower heights since the end of February, but the new bentgrass still isn't thick enough and tight enough to be mowed to a putting height.
In conjunction with the greens replacement, Alvamar is upgrading its driving range located adjacent to the Nos. 10 and 11 holes. Target greens of closely mowed zoysia are being added and berms are being installed between the two holes and the range.
"It's going to be state-of-the art," Randy Towner, head pro at Alvamar CC, said of the facility. "We're putting in the berms so we'll have more of a separation between the range and the course."
Kansas University's athletic department has helped fund the target greens because they'll also be part of the Jayhawk Training Center, which includes a short-game practice area featuring a 15,000-square foot, three-tiered green.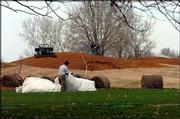 "We're slightly behind on that project," Stuntz said. "We were hoping to open on April 1, but the sodding is wrapping up now, and we think it will be ready by the end of April."
Stuntz also wishes he could be more specific about the date the 18 holes on Alvamar Public's Jayhawk and Quail Creek nines will be usable again.
"It depends on the sun," Stuntz said Monday. "We need sunshine, and what we're getting today is exactly what we need. We can control the water, but not the sun."
Monday's temperatures climbed into the mid-70s under a bright sunny sky and more of the same was expected today.
For the last couple of months, Stuntz's crews have been rolling and unrolling white plastic covers on the 18 greens depending on the weather. If the sun is out, the covers come off, but they go back on at night if the temperatures are expected to hover around the freezing mark.
"It's a labor-intensive process," he said. "We do it to have a greenhouse-type effect and to protect it from the cold."
Stuntz had his fingers crossed after Christmas when Lawrence was hit with an ice storm.
"We came out with no damage, and the covers probably had something to do with that," he said.
Alvamar Development Corp. officials have declined to divulge the cost of the greens-replacement project or estimate how much revenue has been lost by closing the course for six months, but the total nut is surely well into six figures.
When it reopens, Alvamar Public will join Alvamar CC and Eagle Bend, the municipal course near Clinton Lake dam, as city courses with Crenshaw greens.
Lawrence Country Club has a mixture of anachronistic bentgrass while the Orchards, a nine-hole course with no par-fives, still has Cohansey greens.
Copyright 2018 The Lawrence Journal-World. All rights reserved. This material may not be published, broadcast, rewritten or redistributed. We strive to uphold our values for every story published.