When Jean Rolfs bought her home 18 months ago, she barely could see what she'd spent so much money on.
"You couldn't even see the house, there was so much growth outside," she said, recalling the bushes, shrubs and other plants that had overrun the home's exterior. "And the lawn needed a lot of work. No one had really done anything with it for a while."
But these days Rolfs' measured efforts are paying off. Her lawn's stubborn dead patches are beginning to show signs of life, the kind of growth turnaround that any company would be proud to claim on an earnings report.
Sinking a few dollars in weed killers, fertilizer bags, grass seeds and gasoline for the mower is paying dividends, with plenty of promise for counting on future interest.
"It's an investment," Rolfs said last week, after spending an hour spreading fertilizer in her front and back yards on Vermont Street. "If we ever want to sell the house, it'll sell better."
As spring rains promise yet another lush growth cycle, homeowners throughout the area are seeing green -- fescue and bluegrass leaves that are showing their colors.
Horticulturists, professional landscapers and other professionals say that a little care can go a long way toward saving plenty of time, money and aggravation as the growing season shines on Lawrence.
"You can spend as little or as much as you want to," said Bruce Chladny, horticulture agent for Kansas State Research and Extension -- Douglas County. "Grass is grass, whether you're pumping $500 a month into it or $5 a month into it. It might be greener, but it's still going to be green.
"If you do it right, you can get away with $100, $200 a year and have a decent lawn."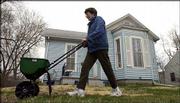 Developing a strategic plan for lawn care starts with fertilizer, experts say.
Feeding schedule
Chladny advises against applying fertilizer until May. Any earlier, he said, simply means firing up the mower before it's necessary.
By following directions on the package, homeowners can get just enough fertilizer on the ground to promote healthy grass without feeding the growth of a whole new rain forest. Folks who pay the neighbor kid $20 to cut their grass can save some cash with timely fertilization.
"Give it just enough for it to be healthy and strong, but not enough to encourage the lush, green growth that requires you to mow every three or four days," Chladny said. "If you put on too much, all you're doing is making the grass greener, and making it be mowed more often."
Proper fertilization and diligent maintenance is key to maintaining a healthy lawn, said Frank Male, owner of Lawrence Landscape Inc.
"The best weed preventer in the world is a good, thick, lush lawn," Male said. "It chokes out the weeds."
Keeping grass watered is one of the ways to promote healthy growth, he said.
Recommendations for watering are by no means standard. Chladny prefers to water only if his grass is starting to show signs of wilt; otherwise, he lets Mother Nature handle it.
"Last year I didn't water once," he said.
Irrigation systems
But Male's company installs plenty of irrigation systems, which offer convenience and efficiency. A typical system costs about $3,000, he said, and pays off by fostering a consistent care schedule, promoting maximum green color and -- in many cases -- saving on water use, when compared to using a hose or movable sprinklers.
Irrigation systems allow homeowners to set timers, he said, so that the sprinklers can go on before the sun comes up, to cut down on evaporation, and apply just enough water to promote consistent growth.
The systems also help when a home hits the market, Male said.
"It's like a lot of things," he said. "Take central air. It costs money up front, but when you sell the house, people are going to want the central air. And you get to enjoy the use of it while you live there.
"It's an investment, is what it is."
Lisa Ramler, president of the Lawrence Board of Realtors, said a well-kept lawn was among the many factors that could help speed up a home's sale or even command a higher price.
"People want the work done," said Ramler, a Realtor for Realty Executives -- Hedges Real Estate. "They want to be able to move in, get their furniture set and live in the house. ... The majority of people don't want to have to do work, especially the higher priced the house."
Bill Wood, who works with Chladny as the county's agricultural extension agent, said that allowing a lawn to become too thirsty -- its brittle leaves turning a grayish brown above the cracked soil -- can kill the grass, a costly replacement project. Replanting or sodding a lawn can cost thousands of dollars, and require strict maintenance and attention.
"I want to keep my lawn healthy," Wood said. "I don't want to have to replant it."
Going for the green
Neither does Dick Stuntz.
The vice president for golf course facilities at Alvamar advises people to shoot down the middle when it comes to their own lawn care. There's no need to spend thousands of dollars for care and equipment unless it's desired, but skimping on fertilizer and other items can come back to haunt a homeowner.
"It's 'pay me now, or pay me later,' " he said.
If Stuntz's advice is par for the course, then Rolfs is square in the fairway at her home on Vermont Street.
She's looking forward to her latest fertilizer application making her lawn grow faster.
"I like mowing, actually," she said. "I like to exercise, and this is good exercise."
Caring for tall fescue and Kentucky bluegrass -- the state's top lawn choices -- means following a fairly straightforward schedule for maintenance and feeding, a lawn expert says.Chip Miller, horticulturist with Kansas State University Research and Extension, suggests following this schedule to keep your lawn healthy:¢ April: Mow often, so you never have to cut off more than one-third of the turf's height. Cut fescue 3.5 inches high and bluegrass 2.5 inches tall. Remember that April 1 usually is the ideal time to apply traditional crabgrass preventer; April 15 is the year's deadline.¢ May: For a "high-end" lawn -- one that's greener, but requires more mowing and watering -- apply a slow-release fertilizer. With all lawns, water deeply, if necessary, to help the turf prepare for summer. In dry, warm weather, that could mean irrigating once a week. Avoid frequent, shallow waterings -- they foster pests. Mow regularly.¢ June: Watch for little whitish moths' being flushed up by your mowing; if you see them, check into sod webworm control. Spot treat summertime broadleaf weeds, if necessary. Promote your turf's drought-tolerance by raising the mower's cutting height by up to 1 inch. Water whenever your lawn shows signs of drought stress, indicated by a bluish cast and a lack of "spring-back."¢ July: If you've got turf that's wilting and turning brown too quickly in spots, see if you can pull up the grass plants there and see small "C"-shaped white larvae below; if so, check into white grub controls. When the weather's hot and dry, water deeply once or twice a week. Make sure your mower blade is sharp, so that it's not "chewing" the turf. If replanting in fall, kill problem bermudagrass. If overseeding or fertilizing in fall, get a soil test.¢ August: Apply a second grub control, if needed. Prepare soil for any planned fall planting, incorporating the amendments your soil test suggested. Maintain July's watering and mowing schedule.¢ September: Plant new lawns or bare spots. Overseed thin lawns. Use a turf-type tall fescue blend or Kentucky bluegrass that a local nursery has selected for your climate. Keep planted grass seeds moist until they sprout and start growing. Aerate existing turf, if needed -- an annual rite for clay soils. Apply high-nitrogen fertilizer on established lawns only, plus apply any other amendments suggested by your soil test. Water established turf just to prevent wilt.¢ October: Fertilize newly-seeded lawns at half the normal rate once they've grown enough to merit mowing three times. In other lawns, spray dandelions, chickweed and henbit. Keep mowing, as needed, until the grass stops growing.¢ November: Fertilize established lawns a second time. Or, to get a jump on crabgrass, apply a fertilizer-Barricade mix. Keep tree leaves raked to remove their smothering "shade." Cut turf 2 to 2.5 inches high at last mowing, and soak the soil one last time before winter.
Copyright 2018 The Lawrence Journal-World. All rights reserved. This material may not be published, broadcast, rewritten or redistributed. We strive to uphold our values for every story published.