Austin, Texas — Andrew Bogut cussed at himself, punched the air and crinkled his nose. None of it could get him going.
Stymied by a pair of 7-foot backups and pestered by smaller guys, Utah's All-America center had his worst game of the season and the Kentucky Wildcats shot a season-best 62 percent in beating the Utes, 62-52, Friday night in an Austin Regional semifinal.
"They banged me around," said Bogut, who missed eight of his first 10 shots, more than he missed in the first two rounds combined. "It wasn't my day shooting the basketball."
The Wildcats (28-5) are headed to the regional finals for the second time in three years, and they'll certainly be fresh when they play Michigan State on Sunday. Showing off their superb depth, no player went more than 27 minutes.
It's also pretty impressive that their most pivotal defenders were 7-foot-3 Shagari Alleyne and 7-foot Lukasz Obrzut, a duo that coach Tubby Smith didn't turn to in a total of 11 games this season.
They were forced into action this time when starting center Randolph Morris got his second foul just 90 seconds in. They ended up doing such a good job of staying between Bogut and the basket, with teammates helping making life miserable when he did get the ball, that the Utes (29-6) were playing catch-up once the game was five minutes old.
"We needed them," Smith said. "They were fired up, looking forward to it."
Bogut finished with 20 points and 12 rebounds, but it wasn't as good as it sounded. He made just eight of 19 shots -- matching the most misses of his career -- and went a career-worst 4-of-11 from the line, opening with two misses and seeing another rim out when he could've put Utah within two with 12:28 left.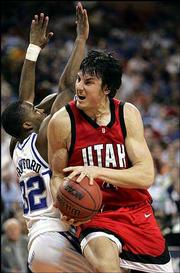 While he shot better in the second half, his rebounding fell off. And, unlike the previous game when he offset 10 points with a career-high seven assists, he didn't have any this time.
"It was a great advantage having three 7-footers who can run the floor, defend and block shots," said Alleyne, who blocked the first shot Bogut tried against him and appeared to bother Bogut the most with his massive wingspan. "I'm 7-3. I'm not going to be intimidated by a guy who's 7-foot."
The disappointment goes deep for Bogut. The sophomore is widely expected to turn pro, so this probably was his last college game.
Bogut declined to say whether he's decided about going to the NBA, but coach Ray Giacoletti said he would tell him to if he would be a top-three pick, which is likely.
"Bogut is definitely gone, you can see it in his eyes," Utah's Bryant Markson said. "He's pretty upset with this game."
Chuck Hayes led Kentucky with 12 points on 5-of-6 shooting and Rojon Rondo was 4-of-5 for 10 points. Kelenna Azubuike had nine and his 2-for-5 performance seemed stone cold compared to his teammates.
Copyright 2018 The Associated Press. All rights reserved. This material may not be published, broadcast, rewritten or redistributed. We strive to uphold our values for every story published.