Albuquerque, N.M. — In the end, West Virginia had to stop it just once.
As Texas Tech (22-11) feasted off the steal-and-drive in the second half of Thursday's Sweet 16 matchup at The Pit, it appeared the Red Raiders would use that combination to advance to their first NCAA Tournament Elite Eight in school history.
But the Mountaineers' Tyrone Sally blocked a shot by Tech's Jarrius Jackson after one of several Red Raiders thefts, and West Virginia avoided its second consecutive overtime game with a 65-60 victory to advance to the Albuquerque Region final Saturday against Louisville.
Tech's Ronald Ross plagued West Virginia (24-10) in the second half, grabbing consecutive steals and scoring twice to tie the game at 40-40. Curtis Marshall later fed a steal to Ross, who dunked for a second time to tie the game at 42-42.
Tech's defense forced the issue for most of the game's last 20 minutes, with steals and blocks that began fast breaks. Ross got his third steal-and-dunk for a 51-51 tie and then glided in for an easy layup after his man went by trying to steal the ball from him.
"Anytime you get to this point, you can't ask for much more," Tech coach Bob Knight said. "Sometimes, your team gets beat. We got as good an effort as we could get. A couple of times we could have been out of the game, and we got right back in. It just didn't go in for us."
Five times in the second half, Ross (16 points, four steals) went right to the hoop and scored. West Virginia, which started the game 6-of-9 from three-point range but finished 3-for-13, got a big three-pointer from center Kevin Pittsnogle (22 points, eight rebounds) to take the lead for good, 56-53. Jackson then stole the ball for Tech and went coast-to-coast to make it 56-55, the closest Tech would get.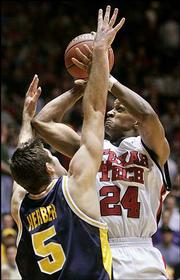 Tech, which started poorly, closed the first half with a semi-flourish for a 32-32 tie, capitalizing on a West Virginia shooting slump. Pat Beilein's drive at 9:13 for a 24-17 lead was the last basket for West Virginia until the 2:36 mark. Tech went about four minutes without a field goal, getting just two free throws by Jackson.
Ross' baseline runner got Tech as close as 24-21, and the Raiders started finding life. Marshall's offensive rebound and putback made it 24-23, and then his three-pointer put Tech ahead 26-24.
West Virginia went back up 30-26, but Ross tied the game at 30. Daryl Dora dribbled inside and popped a short jumper for a 32-30 Tech lead. West Virginia tied it again, and Ross missed twice to end the half.
Tech's Devonne Giles scored 10 points in the game's first 12 minutes, but sat down the rest of the half because of two fouls.
Copyright 2018 The Lawrence Journal-World. All rights reserved. This material may not be published, broadcast, rewritten or redistributed. We strive to uphold our values for every story published.