Pinellas Park, Fla. — Their legal options nearly exhausted, Terri Schiavo's parents made a desperate appeal to the U.S. Supreme Court on Wednesday, asking justices to order resumption of nourishment for their severely brain-damaged daughter.
The late-night appeal followed rapid-fire developments in the case, with a federal appeals court refusing to order the reinsertion of Schiavo's feeding tube and the Florida Legislature deciding not to intervene in the epic struggle. Refusing to give up, Gov. Jeb Bush also sought court permission to take custody of Schiavo, who was on her sixth day without food or water.
The desperate flurry of activity came as President Bush suggested that Congress and the White House had done all they could to keep the woman alive. Her husband, Michael Schiavo, says his wife would not want to be kept alive artificially and has fought for years with her parents over whether she should be allowed to die.
In the emergency Supreme Court filing, Bob and Mary Schindler say their 41-year-old daughter faces an unjust and imminent death based on a decision by her husband to remove a feeding tube without strong proof of her consent. They alleged constitutional violations of due process and religious freedom.
The filing also argues Congress intended for Schiavo's tube to be reinserted, at least temporarily, when it passed an extraordinary bill last weekend that gave federal courts authority to fully review her case.
Time is of the essence. Schiavo's feeding tube was removed last Friday and doctors have said she likely would die within a week or two at a her hospice.
The Schindlers' attorney, David Gibbs III, declined immediate comment on the brief to The Associated Press.
Supporters of Schiavo's parents grew increasingly dismayed Wednesday, and 10 protesters were arrested outside her hospice for trying to bring her water.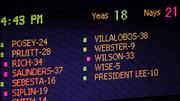 "When I close my eyes at night, all I can see is Terri's face in front of me, dying, starving to death," Mary Schindler said outside the Pinellas Park hospice. "Please, someone out there, stop this cruelty. Stop the insanity. Please let my daughter live."
Schiavo's tube was pulled Friday afternoon with a Florida judge's approval. By late Tuesday, her eyes were sunken and her skin, lips and tongue were parched, said Barbara Weller, an attorney for the Schindlers.
The long-shot custody request by Jeb Bush was made before Judge George Greer, the same judge who has presided over the case for several years and ordered the feeding tube removed last month. Greer planned to decide by noon today on whether the case would go forward. He issued an emergency order Wednesday to keep the Department of Children & Families from reconnecting the tube.
The Florida Legislature also jumped back into the fray, but senators rejected a bill that would have prohibited patients like Schiavo from being denied food and water if they did not express their wishes in writing. The measure was rejected 21-18.
Copyright 2018 The Associated Press. All rights reserved. This material may not be published, broadcast, rewritten or redistributed. We strive to uphold our values for every story published.