Kansas University senior power forward Wayne Simien was named first-team All-American on Tuesday by the Associated Press.
Joining Simien on the squad were Utah's Andrew Bogut, Duke's J.J. Redick, Wake Forest's Chris Paul and Syracuse's Hakim Warrick.
The AP honor means Simien, also a first-team All-America pick of the U.S. Basketball Writers, National Assn. of Basketball Coaches and Sporting News, is a consensus All-American and, thus, will have his jersey hung in the rafters at KU.
"It's a great honor being on the same list with such great players," Simien said of the AP honor. "I wouldn't have been able to do it without my teammates and a great coach like coach (Bill) Self."
Simien missed 28 games over his first three years with various injuries, and he missed four games this season after having surgery on his thumb. Still, he averaged 20.3 points and 11.0 rebounds while shooting 55.2 percent from the field and 81.6 percent at the free-throw line to become the Jayhawks' first All-American since Nick Collison in 2003.
Self said Simien "had the best year of any player I've ever coached. It's amazing the adversity he has been through (with injuries in his career), but he remains so positive. His play is a direct reflection of his attitude."
The voting was done on a 5-3-1 basis by the same 72-member national media panel that selects the top 25 each week.
Bogut received 60 first-team votes and 330 points, 22 more than Redick, who had 53 first-team votes. Simien and Paul each had 289 points, with Simien getting 45 first-team votes, one more than Paul. Warrick also had 44 first-team votes and totaled 283 points.
"It's been a great opportunity to play here the last four years," Simien said. "I'll be graduating in May. I had a chance to finish with the guys I came in with, had everything that comes along with being a senior. I think I improved a lot this year, my range, my rebounding, my numbers. I had a chance to play another year under a great system, with great teammates under a great coach."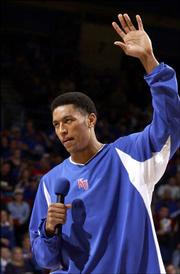 Bogut was the only member of the first team who was not at least an honorable mention selection in the preseason All-America balloting. Now Bogut is considered a sure lottery pick -- and the possible top pick -- if he decides to declare for the NBA draft.
"The thing that impresses me the most about Andrew is his ability to get better as the year went along," first-year Utah coach Ray Giacoletti said.
Bogut's Utes are in the round of 16 for the first time since their 1998 run to the national-championship game.
"We were just trying to have a successful year and do our best," said Bogut, Utah's first All-America since Andre Miller in 1999. "It just all came together these last couple of weeks."
Redick is one of the best shooters in the game from long range -- 40.5 percent on three-pointers -- and the free-throw line -- 93.7 percent. The 6-4 Redick averaged 22.1 points and played 37.3 minutes per game for the short-handed Blue Devils.
"J.J. has become a complete player," Duke coach Mike Krzyzewski said of Duke's first All-America since Jason Williams was selected in 2001 and 2002.
The 6-0 Paul averaged 15.3 points, 4.5 rebounds, 6.6 assists and 2.4 steals and shot 47.4 percent on threes and 83.4 percent from the free-throw line.
He was the leading vote-getter on the AP's preseason All-America team, and he's Wake Forest's first postseason selection since Tim Duncan repeated in 1997.
Andrew Bogut,Utah,7-0, 240, sophomore,20.4 ppg, 12.2 rpgJ.J. Redick,Duke,6-4, 190, junior,22.1 ppg, 93.7 ft pctChris Paul,Wake Forest,6-0, 175, sophomore, 15.3 ppg, 6.6 apgWayne Simien,Kansas,6-9, 255, senior,20.3 ppg, 11.0 rpgHakim Warrick,Syracuse,6-8, 209, senior,21.4 ppg, 8.6 rpg
"I just love the way he commands a game," Wake Forest coach Skip Prosser said.
The 6-8 Warrick averaged 21.4 points and 8.6 rebounds while shooting 54.8 percent.
"It's a special honor, especially since no Syracuse player has done it since Billy Owens in 1991, and there have so many great players here the last few years like Carmelo (Anthony)," Warrick said.
The second team had Illinois guards Dee Brown and Luther Head, Sean May of North Carolina, Salim Stoudamire of Arizona and Ike Diogu of Arizona State.
The third team was Deron Williams of Illinois, Shelden Williams of Duke, Nate Robinson of Washington, Raymond Felton of North Carolina and Joey Graham of Oklahoma State.
Two first-team selections from last season -- seniors Lawrence Roberts of Mississippi State and Ryan Gomes of Providence -- were honorable mentions this season. No KU players earned honorable mention.
Copyright 2018 The Lawrence Journal-World. All rights reserved. This material may not be published, broadcast, rewritten or redistributed. We strive to uphold our values for every story published.