Don Scheid, longtime Lawrence resident and retired Kansas University clarinet professor, got more than the usual cake on his 80th birthday. His son Steve established the L. Don Scheid Woodwinds Scholarship Fund with a gift of $30,000. The gift will receive matching support from the Denver-based Janus Capital Group where Steve, a Lawrence High School and Michigan State University graduate, is chairman and CEO.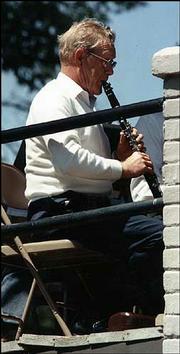 Steve thought it an appropriate gift to his father, "who imparted a love of music to hundreds of students during his 30 years at KU."
Before retirement, Don Scheid also was associate dean of the School of Fine Arts.
"I had the privilege of taking clarinet lessons from Don before I began my high school teaching career," said Steve Hedden, KU dean of fine arts. "So I know firsthand that he challenged his students to do more than they believed they could do."
Hedden said the scholarship would enable the school to continue Don Scheid's legacy.
Don retired from KU in 1990 and lives in Lawrence with his wife, Marian.
Copyright 2018 The Lawrence Journal-World. All rights reserved. This material may not be published, broadcast, rewritten or redistributed. We strive to uphold our values for every story published.