Nashville, Tenn. — The Louisville Cardinals are done whining about their seeding. They're making all their arguments on the floor.
Francisco Garcia scored 18 of his 21 points in the first half, and Taquan Dean halted Georgia Tech's last hope with a flurry of three-pointers, sealing a 76-54 victory that sent Louisville to the regional semifinals for the first time since 1997.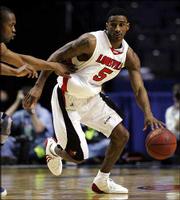 "I don't want to tick anybody off, but somebody told me this is a four seed ... you're nuts. You're absolutely nuts," Georgia Tech coach Paul Hewitt said. "They're as good as anybody we've played this year."
Dean finished with 14 points, all but two on three-pointers, and Larry O'Bannon added 16 for Louisville (31-4). The Cardinals never trailed and led by as many as 23 points, and their stifling 2-3 zone limited last year's NCAA runners-up to less than 38 percent shooting.
Luke Schenscher (13) and Jarrett Jack (11) were the only Yellow Jackets in double figures, and B.J. Elder was held to just three points on five shots.
As the final seconds ticked down, the thousands of Cardinals fans who were lining up Saturday night to buy leftover tickets started chanting "Sweet 16! Sweet 16!" Garcia was beaming as he came out of the game and hugged coach Rick Pitino, who improved to 29-9 in 11 NCAA Tournament appearances.
The Cardinals thought they'd locked up a top seed or at least a No. 2 after beating Memphis to win the Conference USA tournament, and they made no secret of their disgust when they didn't get one. Worse, they drew the fourth seed in the Albuquerque Regional, behind lightly regarded Washington, Wake Forest and Gonzaga.
Well, Wake and the 'Zags are done now, relegated to their couches for the rest of the tournament. And Louisville can prove it really did deserve that top seed, playing Washington in the regional semifinals next weekend.
"A four seed, I don't buy it. That's OK. We never focused in on it. We never talked about it again," Pitino said. "We've done our job, and now we're in the Sweet 16."
Copyright 2018 The Associated Press. All rights reserved. This material may not be published, broadcast, rewritten or redistributed. We strive to uphold our values for every story published.