Homosassa, Fla. — A convicted sex offender entered Jessica Lunsford's house through an unlocked door, snatched the 9-year-old girl from her bed and later sexually assaulted her, authorities said Sunday.
Medical examiners confirmed the sexual assault by examining her body. But because suspect John Evander Couey was under the influence of drugs, detectives might never know how long she was held before she was slain, Citrus County Sheriff Jeff Dawsy said.
The sheriff released new details of the attack on the same day Couey was returned to Florida in shackles. He was booked early Sunday on a probation violation and failure to register as a sex offender. He was being held without bail.
Couey, 46, confessed to kidnapping and killing Jessica after taking a lie-detector test Friday in Georgia, officials said. The girl's body was found early Saturday, more than three weeks after she vanished from her bedroom.
Jessica's father, in an emotional statement, expressed a desire to mete out justice of his own.
"I won't get the wish, but I wish I could see him, just one time," said Mark Lunsford, his eyes hidden by dark sunglasses.
Lunsford said he and his relatives would soon begin planning Jessica's funeral.
Couey had not been charged in her death, although that was expected soon.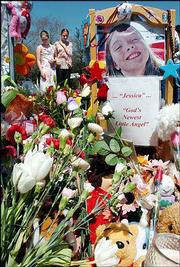 "If he's not charged today, he probably will be tomorrow," sheriff's spokeswoman Ronda Hemminger Evan said. "It shouldn't take that long."
At Jessica's church on Sunday, the pastor asked for prayers for the Lunsfords.
"Lord, we don't always understand your ways," the Rev. William LaVerle Coats told 175 grieving people during services at Faith Baptist Church, where many people saw the girl for the last time on the night she disappeared. "We accept what has taken place here, and ask that you would give us some peace."
Coats asked churchgoers to forgive Couey. Jessica's father said he may have a hard time with that request. "He needs to stand up and be a man now and take his death penalty," Mark Lunsford said.
Earlier, Couey appeared before Circuit Judge Stephen Spivey at the Citrus County Detention Center. He was declared indigent and was told a public defender would be assigned to his case.
He answered that he was doing "all right," when the judge asked how he was. Couey answered all other questions with either "Yes, sir" or "No, sir" replies.
At the end of the hearing, Spivey wished the man luck. "Thank you," Couey said softly, before turning and shuffling away, his shackles clanging together.
Copyright 2018 The Associated Press. All rights reserved. This material may not be published, broadcast, rewritten or redistributed. We strive to uphold our values for every story published.