New York — In 1959, white journalist John Howard Griffin darkened his skin to live as a black man in the South and recounted his experiences in "Black Like Me," a riveting book that broke new ground in the nation's discourse on race.
More than 40 years later, anti-racism activist Tim Wise has written a similar book -- with a twist. In "White Like Me: Reflections on Race From a Privileged Son," Wise explores what it was like growing up with the advantages of a white person in the post-civil rights era South.
The point, he said, is to make whites aware that institutional racism remains a problem in the United States and that they have a vested interest in helping to bring down their privileged places in society.
"The risk when we talk about racism is that if white folks don't think critically, they can get stuck in the guilt phase," he said in an interview from his home in Nashville, Tenn. "But I think white folks should be upset and realize that we, too, have been harmed by a system in absolute terms."
Wise, 36, has a unique way of talking about what is generally considered a very prickly topic. He readily confronts the fact that his own ancestors were slave owners, yet says whites today should not feel guilty about a system they had no part in creating. He is eloquent and passionate without appearing self-righteous.
Fighting racial inequality has become Wise's career. He started out campaigning against former Ku Klux Klan leader David Duke's failed run for the U.S. Senate in Louisiana in 1990, then began lecturing on race around the country after graduating from Tulane University. He has written one previous book about affirmative action.
But Wise is also different because, as he puts it, he has an "exaggerated credibility" that comes with being a white person addressing mostly white audiences about race -- an element of the culture of privilege he seeks to redress.
When he lectures at universities, he jokes that he's every school's favorite white Black History Month speaker. He has given speeches about racial inequality to mostly white corporate audiences and had listeners tell him later that they had never before thought about racism in such a way.
"That was stunning because the black employees would say, 'I said the same thing last week,"' he said. "But a lot of white folks who would ignore these comments when offered by a person of color will listen to me say the same thing and say, 'Oh my goodness."'
Wise uses anecdotal evidence and his unusual perspective to great effect in the book. He supports his arguments by giving real-life examples of his own perceived privilege in a way to which he believes other whites can relate.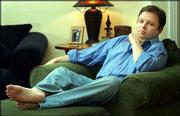 For example, he noticed at an early age how he and other white students were put on an accelerated track in grade school, while his black friends were placed in remedial courses. Teachers treated the students differently based on race, and after a while, whites and blacks drifted apart because they no longer had a shared point of reference. It was as if they went to two different schools.
At Tulane, Wise said white students were far more cavalier about experimentation with drugs because, as he put it, "we weren't afraid of getting caught."
"There's something about being white in this country that allows one, even encourages one to take a lot of stupid risks, knowing that nine times out of ten, everything will work out," he writes.
Wise acknowledged that the conclusions he draws from his experiences may be controversial. Some academics, for example, have criticized him as being far too alarmist.
David Horowitz, a conservative activist and author of many books dealing with social issues, said Wise subscribes to a "rigid, Marxist framework on race" in which the fates of minorities are completely imposed on them by external forces.
"This kind of thinking implies a collective effort by white people to keep black people down," Horowitz said, adding that Wise's theory could never explain how talk show host Oprah Winfrey could wind up being one of the richest women in the United States.
Copyright 2018 The Associated Press. All rights reserved. This material may not be published, broadcast, rewritten or redistributed. We strive to uphold our values for every story published.