The 2004 movie "Napoleon Dynamite" was filmed for under $500,000 in rural southern Idaho, far away from the glitz of Hollywood. After being optioned by Fox Searchlight for $3 million, it netted roughly $45 million at the box office.
The Kansas Film Commission would like to see Kansas become more like southern Idaho, and to that end it organized the first Kansas Film Industry Summit, an event to promote networking among writers, directors, producers and crew members operating in the state.
About 100 people gathered Saturday at the Lawrence Arts Center for the summit.
Peter Jasso, manager of the Kansas Film Commission, said he hoped that getting members of the local film industry together might help spawn the next big regional movie here in the state.
"We wanted to provide the filmmakers of Kansas at least one annual opportunity to network and get together, and also to share ideas about how we can grow this industry," Jasso said.
Jasso said film was currently a $7 million dollar industry in Kansas and was expected to grow.
While the projects currently filmed in Kansas are a diverse mix of commercials, documentaries and television shows, it was the prospect of attracting more independent movie productions to the state that had many of the attendees at the summit excited.
Kansas University film professor Kevin Willmott, who attended the summit, recently proved that Kansas can be a fertile area for the creation of a successful small film. His movie "CSA: The Confederate States of America" was screened at the Sundance Film Festival last year in Utah and is scheduled for wide release this summer.
Willmott said the summit was a great opportunity for Kansas filmmakers, especially those at KU, to create interest in their projects.
"The thing that we've been trying to encourage, in Lawrence in particular, is feature films," Willmott said. "You just have to tell good stories. That's something that Hollywood still has to deal with. If you can make a film that matters, you can sometimes break through the system."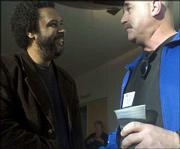 Timothy Gruver, executive director of the Tallgrass Film Festival in Wichita, said regional films like "CSA" and "Napoleon Dynamite" were becoming increasingly popular at major film festivals like Sundance.
"(Napoleon Dynamite) is a prime example of what can happen when a region decides to support its filmmakers," Gruver said. "Support each other on various projects, and hopefully what will come from that is a great film."
Jasso said he hoped to make the film summit an annual event, but the commission had not determined whether it would always be held in Lawrence.
Lawrence tourism promoters also have seen film potential in Kansas.
Judy Billings, director of the Lawrence Convention and Visitors Bureau, has been working with Adam Bauer, a former Kansas resident and now a New York talent promoter with ties to the independent film industry, to create a film festival based in Lawrence.
Billings said in January that she was hoping for an event -- tentatively dubbed the Sunflower Film Festival -- that would attract a couple thousand people to town by showing films in Liberty Hall, the Lawrence Arts Center, the Granada and the Lied Center. Downtown bars, restaurants and coffee houses could serve as venues for lectures and workshops.
Bauer, who helped stage the first Vail Film Festival in Colorado last year, said he thought Lawrence could organize a high quality event that would screen about 10 feature films, 15 short films and five documentaries or animated works.
"It seems like Lawrence has the perfect demographic," Bauer said. "It has the culture of the students and the film school, and it has a nice population in Kansas City to draw from. I think it could really work."
-- Staff writer Chad Lawhorn contributed to this report.
Copyright 2018 The Lawrence Journal-World. All rights reserved. This material may not be published, broadcast, rewritten or redistributed. We strive to uphold our values for every story published.