In the past month, 20 Lawrence teachers and three principals have announced their retirements.
That's probably a record.
"It certainly the most we've had in recent years," said Mary Rodriguez, USD 497's director of human resources.
There are varying reasons for the wave of retirements. It seems Lawrence teachers are older than their peers in other districts, so the growing number of retirees is inevitable.
But some teachers say they're leaving now because there's little financial incentive for older, more experienced teachers to stay with the district. And some say they're worn out with the battles over school funding and pay that have dominated the education scene in recent years.
Arthur Sloan, a 54-year-old English teacher at Lawrence High School, is among the retirees.
"I'm the only person I've ever heard of in the district -- maybe even in the state -- who's done what I've done, and that's teach in the same building for 33 years," Sloan said.
He's leaving, he said, because he's fed up.
"I know people don't want to hear this, but I'm being honest," Sloan said. "Morale in the district is at an all-time low. Teachers don't feel valued -- I know I don't.
Officials suggest that as the current crop of Baby Boomer teachers moves into its mid-50s, the retirement numbers are only going to get bigger.
'Losing experience'
Of the 20 teachers whose retirements were announced between Feb. 28 and March 14, 18 had been with the district for 20 years or more; five for 30 years or more.
"We're losing a lot of experience, obviously," said school board president Leni Salkind.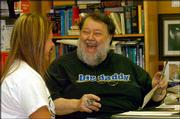 "About 40 percent of our certified staff -- teachers and administrators --are age 50 and older," Rodriguez said. "The statewide average is 33 percent."
Records show that an additional 17 teachers and principals have worked long enough to retire this year if they choose. They have until May 15 to notify the district of their intent.
"Until then, we have no way to know how many (teachers) will retire -- it's their decision," Rodriguez said. "But I anticipate getting more (retirements) than we have now."
Interviews with several teachers who've announced their retirements revealed that most intend to either leave the work force or look for jobs in other fields.
"I have other things calling me," said 57-year-old Robert Lominska, who's taught kindergarten at Hillcrest School for the past 24 years; before that, he spent four years at Woodlawn.
"I have an organic vegetable farm," he said. "I want to spend more time there."
Some, however, say they're leaving the district, in part, because they can't afford to stay.
"My take-home pay has hasn't kept up with inflation for a long time. I've lost ground I can't afford to lose," said Paul Stuewe, an award-winning history teacher who's wrapping up his 19th year at Lawrence High School. Previously, he taught in Eudora for 10 years.
'Top of the chart'
In Kansas, teacher salaries are figured on experience and postgraduate hours of education. But many districts, including Lawrence, cap teacher pay at 25 years of experience and a doctoral degree.
Lawrence teachers and principals who've announced their intent to retire this year:¢ Katherine Becker, Hillcrest, sixth grade, 25 years.¢ Donna Black, Wakarusa, principal, three years.¢ Lynn Beets, Schwegler, second grade, 24 years.¢ Kathy Carlson, Central Junior High School, science, 27 years.¢ Sarah Carttar, Schwegler, second grade, 31 years.¢ Cheryl Chaput, LHS, mathematics, 20 years.¢ Stephen Grant, Free State, asst. principal, social studies, 28 years.¢ Valerie Howland, Broken Arrow, kindergarten, 32 years.¢ Judy Juneau, Lawrence Alternative High School, principal, 20 years.¢ Ted Juneau, Central Junior High, principal, 24 years.¢ Linda Lawrence, South Junior High, phys. ed., 28 years.¢ Gretchen Lehman, Kennedy, vocal music, 27 years.¢ Robert Lominska, Hillcrest, kindergarten, 28 years.¢ Diana McKenzie, central office, ast. Director of special education, 17 years.¢ Charles Mosely, Free State, chemistry, nine years.¢ Pam Nuzum, South Junior High, guidance counselor, 26 years.¢ Jayne Polcyn, Langston Hughes, fifth grade, 25 years.¢ Sharon Sabraw, Wakarusa, fifth grade, 25 years.¢ Arthur Sloan, LHS, English, 33 years.¢ Paul Stuewe, LHS, history, government, political science, 19 years.¢ Carolyn Wiles, Sunset Hill, first grade, 34 years.¢ Steven Wiles, Central Junior High, phys. ed., 33 years.
Stuewe, 54, has 29 years of experience and a master's degree, plus 60 credit hours of further graduate education.
"I'm at the top of the chart," he said. "The only time I get a raise is when they raise the base, which they haven't done for a couple years."
But even if the school board increased the base, Stuewe said it doesn't make economic sense for him not to begin collecting his pensions from the district and from the Kansas Public Employees Retirement System.
Teachers are eligible for KPERS benefits when their age and the number of years they've taught add up to 85.
KPERS benefits for a 55-year-old Lawrence teacher who's taught for 30 years and has a master's degree would be roughly $1,800 a month.
Also, Lawrence teachers who've been in the district 15 years and whose age and experience add up to 85 are eligible for district-funded pensions, most of which range from $7,000 to $8,000 a year.
"If I stayed in the system -- to figure what I'd be making, I'd have to subtract both pensions and the 4 percent KPERS contribution from my paycheck because that's income that wouldn't be coming in," said Stuewe, who "bought" an extra year -- based on his military service -- to meet the KPERS retirement threshold.
"You do that and there's not much left," he said.
That makes it attractive for experienced teachers to leave.
"I'd planned to stay on two more years," Sloan said. "But the whole fight that's going on over teacher pay tells me it's time to take my money and get out."
But he won't leave teaching entirely. Sloan said he planned to teach introductory reading at Hillcrest and Quail Run schools.
"I'm going to volunteer," he said.
Copyright 2018 The Lawrence Journal-World. All rights reserved. This material may not be published, broadcast, rewritten or redistributed. We strive to uphold our values for every story published.