Miami — Two kids, two days, two destinations: Miami and the Gulf Coast-area Everglades. With so much ground to cover, there would be no time for whining or getting lost. If this quick trip to Florida was going to work, I needed a 48-hour plan, agreed to by all. I researched itineraries and started negotiating.
The children's No. 1 demand: No museums. I conceded as a good-faith gesture.
Consensus followed on two places: Parrot Jungle in Miami and a wildlife tour in the Everglades.
Then, an impasse. The kids wanted Miami glam; I couldn't care less about designer stores and celebrities, but I dreamed of sitting on the sand and gazing at the turquoise sea.
So we compromised. We'd go shopping in South Beach and take a cruise of Miami's "Millionaires Row" -- waterfront real estate owned by the rich and famous. But then we'd have to check out the beach. Nobody was going home without sand between their toes.
A deal was struck. It was chilly and raw when we left New York, sunny and 80 when we arrived in Florida. We shed our coats, put on sunscreen and became tourists.
Our first stop was Parrot Jungle's nursery, to see twin orangutans. These baby apes have diapers, toys, climbing bars and more attention from their 24-hour keepers than some human children. Other highlights included an albino alligator, a petting zoo where we fed baby goats from bottles and a picturesque flock of pink flamingos. Unfortunately, we missed Parrot Jungle's famous liger -- half-lion, half-tiger; he's only there on weekends.
We loved the famed Parrot Jungle shows. Pythons and other exotic snakes starred in the reptile show, and the yellow-naped Amazon parrot who sang "Why Do Fools Fall in Love?" -- with feeling! -- was my favorite part of the bird show.
Parrot Jungle began as a 1936 roadside attraction but reopened in 2003 in a new home on Watson Island in Biscayne Bay. With 500,000 visitors a year, it has managed to survive the Disney era "by being different, and being real," as spokesman Jeff Abbaticchio put it.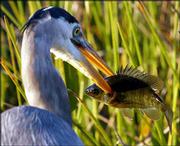 I saw what he meant by "real" when a stubborn cassowary -- a 6-foot-tall Australian bird -- refused to take the stage.
"Animals are animals, not machines," show host Mel Echanique explained apologetically to the audience. "We can't make them do what they don't want to do."
Turned out the cassowary's unpredictable behavior proved just as memorable to my boys as Pinky, the cockatoo who pedaled a tiny bicycle on cue.
Stargazing, sunbathing
We lunched at Little Havana's Versailles restaurant, a huge, friendly place where Cuban food draws everyone from business executives to families. I had a sampler plate that included pulled pork, rice and beans, and then we headed down Eighth Street, the main drag, to nearby Domino Park, a square where retirees gather each day to play dominos. Close your eyes, and all you hear is the clatter of tiles on tables.
Next stop was Bayside Marketplace, to catch our Island Queen cruise along Millionaires Row. You don't actually see the stars, of course. But for ardent fans it's enough to hear the guide say, as you pass Star Island, that the mansion on the right with the boat out front belongs to Gloria Estefan. We spied a basketball court at the place we were told belonged to Shaq, but we couldn't see much of P. Diddy's house -- it was hidden behind trees.
Then we headed to Collins Avenue and the Lincoln Road Pedestrian Mall in South Beach. My 12-year-old was determined to buy trendy sunglasses, but $100 specs from designer stores weren't in his budget. Fortunately, there were several discount shops for every Ralph Lauren or Kenneth Cole boutique; a $10 pair proved easy to find.
I'd been warned we might encounter what's euphemistically called European-style bathing -- in other words, topless! -- at the beach, so we stayed in the family-oriented area, 10th Street and below, where we saw less bare flesh than in the average TV commercial. I dipped my toes in the water and we ended our whirlwind day with incontrovertible proof of a beach visit -- sandy shoes.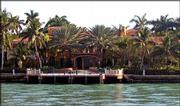 Swamp meets gulf
We spent the night with relatives in Del Ray Beach, then I sounded reveille at 6:30 a.m. for our 130-mile drive to Everglades City, much of it along Interstate 75, a highway known locally as "Alligator Alley."
There are many options for sightseeing here, from noisy, thrilling airboat rides, to big open trucks known as swamp buggies, to canoe and kayak rentals. We chose a narrated boat ride from the Gulf Coast Visitors Center of Everglades National Park to what's called the Ten Thousand Islands, a lush area where the swamp meets the gulf.
For us, the tour was perfect. The small boat had a canopy for shade but no upper deck or windows to obscure the view. Atlantic bottlenosed dolphins frolicked nearby, splashing and waving their fins. Great blue herons, black cormorants, white ibises and pelicans were easy to spot along the shore, green and lush with mangrove trees. We saw ospreys tending their nests, including one feeding its babies and another with a catfish flopping in its talons. The children were awestruck.
We lunched at the Oyster House across from the park entrance. I had the local specialty, stone crabs, in a zesty chowder, along with a delicious plate of farm-raised 'gator -- breaded, fried and served with mustard dip. (Tastes like chicken, I swear!)
Now we were ready to see alligators in the wild. A park ranger recommended H.P. Williams Park, part of Big Cypress National Preserve, 6 1/2 miles from Everglades City. Walking the boardwalk near the parking lot, we saw dozens of alligators lurking in the waters below.
We had one creature left on our Florida wildlife checklist: the elusive manatee. We found some swimming in a roadside canal. Our tour boat captain had directed us to the spot, 1.8 miles from Everglades City along Route 41, unmarked except for other gawkers parked along the shoulder.
Last stop was Smallwood Store, on Chokoloskee Island, which opened in 1906 and is on the National Register of Historic Places. Part store, part museum, it's filled with pioneer and Indian artifacts.
The sun was setting over the Gulf of Mexico. We hadn't worn socks or long sleeves in two days. Time to head back across Alligator Alley, put our coats on and go home.
Parrot Jungle: 1111 Parrot Jungle Trail, Watson Island; www.parrotjungle.com or (305) 2-JUNGLE. Open 10 a.m.-6 p.m. daily. Adults, $24.95; children 3-10, $19.95.Versailles restaurant: 3501 S.W. Eighth St., Miami; (305) 441-2500. Sampler plate, $10.95.Domino Park: At S.W. Eighth Street and S.W. 15th Avenue.Millionaires Row cruise: Island Queen Sightseeing Cruises, www.islandqueencruises.com or (305) 379-5119. Boats depart from Bayside Marketplace throughout the day, 11 a.m.-7 p.m. Monday through Thursday; 11 a.m.-7:30 p.m. Friday through Sunday. Adults, $16; children 4-12, $7.South Beach shopping: Collins Avenue between Fifth and 10th streets, and Lincoln Road Pedestrian Mall.Everglades National Park: To reach the Gulf Coast Visitors Center, from the intersection of U.S. Highway 41 and Route 29, head south on 29 for three miles to Everglades City, drive three-fourths of the way around the traffic circle and continue south on 29, also called Copeland Avenue, to park entrance on the right; www.nps.gov/ever/ or (239) 695-3311. Various boat tours offered daily; schedules vary. Ten Thousand Islands tour (adults, $22; children, $11) is run by Everglades National Park Boat Tours aboard the Skimmer, Skimmer II and Manatee II.H.P. Williams Park: Good spot to view wild alligators, on U.S. Highway 41 in Big Cypress National Preserve, 6 1/2 miles from Everglades City; .Smallwood Store: Chokoloskee; www.florida-everglades.com/chokol/smallw.htm or (239) 695-2989. Open daily 10 a.m.-5 p.m., Dec. 1-May 1; and 10 a.m.-4 p.m., Friday through Tuesday, May 2-Nov. 30. Admission, $2.50.For more information: Miami, www.miamibeachchamber.com or (305) 672-1270; Gulf Coast-area Everglades, www.paradisecoast.com or (800) 2-ESCAPE.
Copyright 2018 The Associated Press. All rights reserved. This material may not be published, broadcast, rewritten or redistributed. We strive to uphold our values for every story published.