The next group of Lawrence city commissioners is expected to dig deeper into the issue of homelessness than any recent group of city leaders.
Candidates in the April 5 election have mixed approaches to the issue, but all agree that action is needed.
"We're at a point where we need to do it," said Tom Bracciano, the fourth-place finisher in the March 1 primary election. "This is one of those issues we haven't dealt with. We need to choose a course of action and move on."
There will be more than one course to consider.
The city's Task Force on Homeless Services has worked for approximately two years on what many hail as the broadest homeless services plan the community has ever undertaken. The draft proposal includes recommendations for a 24-hour shelter, job programs, a team of counselors, new housing strategies and a new city board that would focus on homeless issues. Commissioners could receive the proposal shortly after the election.
Members of Downtown Lawrence Inc. are expected to present their own plan to commissioners. Downtown officials would ask commissioners to consider requiring homeless individuals to apply for a service card to gain access to certain services, such as access to shelters and soup kitchens.
Some downtown merchants have suggested the program -- modeled after systems in Fontana, Calif., and Clearwater, Fla. -- would add more accountability to the city's homeless service system. If homeless individuals failed to enroll in self-help programs or were cited for violating city ordinances, those offenses could be tracked using the card system and some services could be denied as a result.
The city's task force has not yet put dollar figures with their recommendations or said whether new taxes would be needed to fund the programs. But all five candidates said they expected the funding issue to be a major topic at City Hall.
Here's a look at what each candidate has had to say about homeless issues: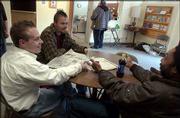 Tom Bracciano
Bracciano believes increased accountability is the key to tackling the city's homeless problem. That's why he thinks the idea of a service card system has merits. He said it would allow service providers to better track whether individuals are going to classes, taking their medications and doing the other necessary tasks to find a job and a home.
"I think it is just like having a driver's license if you have a car," Bracciano said, although he made it clear that he wasn't supporting a badge system that would require homeless individuals to wear the card on their lapels. No candidate is supporting such a system.
Bracciano said he was concerned, after talking to Lawrence police officers, that the current city system was acting as a magnet to homeless people outside the city. He said the service card system would help address that problem.
"If you are coming here for a free lunch, it isn't going to exist for you," Bracciano said.
He also said he was strongly supportive of the task force's recommendation to reopen the inpatient mental health unit at Lawrence Memorial Hospital. He said he would work with LMH officials to convince them to do that, but would take a hard line with the city-owned hospital, if necessary.
"In the end it is owned by the city and that is how it goes," Bracciano said.
As for funding to deal with homeless issues, Bracciano said he was convinced tax increases would not be necessary.
David Schauner
Schauner says he is all for accountability when it comes to dealing with the homeless. But he said he has concerns about a service card system.
"Background checks and those sort of things don't strike me as a good idea," Schauner said. "I think we ought to be interested in running a fair-minded program that provides opportunity, helps people bootstrap themselves up. We need to focus more on that than cards."
But Schauner also said he's concerned about the effect some homeless individuals, and just general loiterers, are having on downtown merchants. Schauner said he would support the city examining whether it could create new ordinances to regulate behavior such as aggressive panhandling downtown.
¢ Tom Bracciano wants increased accountability and is concerned with Lawrence being a destination for the homeless.¢ David Schauner says we should should focus on creating opportunities to create incentives for the homeless.¢ Sue Hack is open to the idea of a service card system, paid for through private funds or by a tax increase, if needed.¢ Jim Carpenter wants a flexible system in place to make sure those needing services don't fall through the cracks.¢ Mike Amyx thinks the current system for the homeless doesn't do enough to improve their lives long term.
He said a program that provided the homeless with more opportunities likely would work better.
"If we had a training program for them to go to during the day, they wouldn't have a need to panhandle," Schauner said. "Generally, human nature reacts more favorably to the carrot than the stick."
Like all the candidates, Schauner said he supported reopening the LMH mental health unit.
On funding issues, Schauner said he was hopeful that the city could provide seed money to help programs get started, but would like for private funding to play a major role in any strategy.
"My sense is that we need to go slower rather than faster on this," Schauner said. "I think we need to make sure we don't bite off more than we can chew."
Sue Hack
Hack, an incumbent and the second-place finisher in the primary, said she was open to the idea of a service card system.
"The details obviously need to be worked out, but I think it goes back to the accountability issue," Hack said. "If we are going to put public and private money into a plan, there has to be some accountability for the folks receiving the services."
Hack said she hoped private money could be raised to support a new system of homeless services, but she expects a significant amount of public money will be needed as well. If that means a tax increase, Hack said she would be open to the prospect.
"I think this has been an issue that has been a large concern for a lot of folks," Hack said. "It probably will be an issue that will require some additional city funds. If that means raising taxes to some degree, that is something we'll probably seriously look at."
Hack said any homeless strategy also should include new ordinances that would attempt to regulate unruly behavior of both homeless and nonhomeless individuals downtown. She said she would support ordinances that put restrictions on aggressive panhandling and sleeping on sidewalks, for instance.
"I think we need to look at the whole gamut of civility/behavior type of ordinances," Hack said. "That doesn't mean you are not compassionate if you want people to stop panhandling."
On the broader issue of providing mental health services, Hack said she supported reopening the community's mental health unit at LMH. She said a recent suicide by a woman who was unable to be admitted to the hospital after her mother had taken her to the emergency room was the type of tragedy that could be prevented.
"I don't ever want the emergency personnel at Lawrence Memorial to have to say to a mother, 'Go home and watch your daughter,'" Hack said. "That is in no way, shape or form intended to be critical of anyone, but that was the circumstance."
Jim Carpenter
Carpenter, the fifth-place finisher in the primary, said a certain amount of flexibility was needed with any homeless services plan that the community adopted. He said many homeless people were distrustful of government systems.
"Drawing bright lines is going to result in certain people falling through the cracks," Carpenter said.
That need for flexibility is why Carpenter struggles whether to support a service card system.
"I have not made up my mind about that point," Carpenter said. "I do know that is one difference between the two philosophies that are out there. I think it is deserving of public discussion at the commission level."
Carpenter also said he did not think there was a simple solution to behavior issues. He's willing for the city to explore new ordinances to regulate panhandling and other objectionable activities.
"But we have to make sure we don't go overboard and draft ordinances that are subsequently ruled unconstitutional," Carpenter said.
He also expressed strong support for reopening the mental health unit at LMH. He said he believed that would take additional financial resources but did not know whether they would come from the city, LMH or Bert Nash Community Mental Health Center.
As for overall homeless funding, Carpenter said a tax increase could not be ruled out at this point. But Carpenter said he thought it was unlikely that property taxes would be increased for the programs.
Mike Amyx
Amyx, the top finisher in the primary, said he was convinced the community's current system of homeless services was not doing enough to help people improve their lives for the long term.
"I think what we're doing is lacking in the area of being able to really give help to people to get out of the situation they are in," Amyx said.
He isn't sure whether a service card system would be a way to improve.
"I'm not going to discount the idea of a service card, but I want to make sure they are used in a way to actually help an individual," Amyx said.
Amyx said he does, though, whole-heartedly agree with downtown merchants who say the city needs tougher ordinances to do deal with behavior problems by the homeless and others.
"I'm going to tell you that we do have some homeless problems in downtown," Amyx said. "We have people asking for money too much, we have lots of words being tossed around at times. We always have to make sure that people feel comfortable in downtown and take pride in their downtown."
As for funding homeless programs, Amyx said he was comfortable with current levels of funding. Adding a new line item to the city budget may be difficult.
"I really think our concentration ought to be on maintaining our level of spending right now," Amyx said.
Amyx also took a strong stance on the need to reopen the mental health unit of the hospital.
"It is still a community hospital and the city still owns it," Amyx said. "This says nothing about the management at the hospital, but I think we as a City Commission have the right to say that it needs to be opened back up."
Copyright 2018 The Lawrence Journal-World. All rights reserved. This material may not be published, broadcast, rewritten or redistributed. We strive to uphold our values for every story published.