TUCSON, ARIZ. — Mark Buehrle struck out seven in six dominant innings Saturday, leading the White Sox to a 3-2 victory over Kansas City.
Buehrle, the 2004 AL leader in innings pitched with 245, retired all 18 batters he faced on 83 pitches. He struck out the side in the sixth.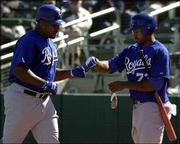 Kevin Appier, vying for the fifth spot in Kansas City's rotation, gave up two hits and two walks while striking out two in 32/3 innings. After Appier's departure, the White Sox got three consecutive singles off reliever Justin Huisman.
Ken Harvey homered off Chicago closer Shingo Takatsu to cut it to 2-1.
Pablo Ozuna scored on Jamie Burke's squeeze bunt in the seventh.
Copyright 2018 The Associated Press. All rights reserved. This material may not be published, broadcast, rewritten or redistributed. We strive to uphold our values for every story published.