Surprise, Ariz. — Mark Teixeira is the only member of the young Texas Rangers infield who hasn't been an All-Star.
While perhaps as deserving as the rest of that group last season, Teixeira was on a lake fishing during the midsummer break instead of being with infield mates Michael Young, Hank Blalock and Alfonso Soriano at the All-Star game.
But such a label isn't needed to notice the talent of the switch-hitting slugger.
The former No. 1 pick and successor to 500-home run hitter Rafael Palmeiro already is one of the American League's top power hitters after just two seasons. He hit for the cycle last year, homered in five straight games, had four extra-base hits in a game and walked five times in another.
Add his clean-cut image and unassuming attitude to that smooth, powerful swing, and the 24-year-old first baseman has the chance to be one of the game's next superstars.
"He's a normal guy who, if you didn't know that he played baseball, you would think he was a big guy who was probably captain of the debate team or running for congressman, or something like that," teammate David Dellucci said.
"He's an incredibly talented player, he's a great teammate, and the best is yet to come," shortstop Young said. "He's only getting better. ... It's pretty scary."
After a solid rookie season (.259 with 26 home runs and 84 RBIs) in which he made the transition to first base and ensured the Rangers would be all right without Palmeiro, Teixeira hit .281 last year. He was among the AL leaders in home runs (38), RBIs (112) and extra-base hits (74 of his 153 hits) and won a Silver Slugger award.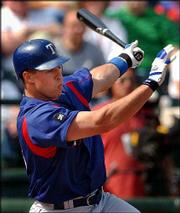 "He was a tough out when he came up. He's become even a tougher out with experience," Los Angeles Angels manager Mike Scioscia said. "The way he swings the bat from both sides of the plate, it's a tough combination to defend."
Especially when Teixeira is in the middle of a lineup with Young, third baseman Blalock and second baseman Soriano -- all All-Stars still in their 20s.
"How far he goes and what he becomes is still to be determined," general manager John Hart said. "He's beginning to establish himself as one of the bright young stars of the game."
And one of the really expensive ones if he puts up more big numbers on the field this season.
Teixeira is in the final year of the $9.5 million contract he got after being the No. 5 overall pick in 2001. Texas has his rights three more seasons after that, but he will be eligible for arbitration.
"What's going to happen in the future is partly out of my hands because all I can do is go and play," Teixeira said. "Then the business side of it takes care of itself. My job is to play the best I can play."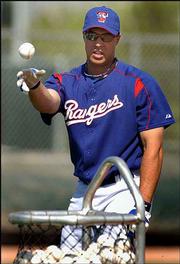 His agent is Scott Boras, who brokered the $252 million, 10-year contract Alex Rodriguez got from the Rangers, plus the $65 million, five-year deal for pitcher Chan Ho Park.
"We're not going to do anything foolish, and ultimately that'll take care of itself as we go along," Hart said.
Young and Blalock signed long-term extensions last spring. Soriano avoided arbitration during the offseason with a $7.5 million deal, though the former New York Yankee who came last year in the A-Rod trade will be eligible for the process again next winter.
Teixeira opted to attend Georgia Tech after being drafted by Boston in the ninth round in 1998. Three years later, after playing just 16 games his junior season because of a broken right ankle, Texas got him.
He was then limited by an elbow injury to just 86 minor-league games, none above the Double-A level. But that was enough.
"I went to college for a reason, and that was to skip the minor leagues," Teixeira said. "I spent a year in the minors and got my at-bats in, and then I felt like I was ready for the big leagues."
The Rangers may not have been that certain about his readiness. But Teixeira stood out that spring, taking advantage of the opportunity when veteran third baseman/first baseman Herbert Perry was injured.
Not only has Teixeira continued hitting since then, he has made an impressive transition from third base to first base, a position he never really had played before. He even played some in the outfield.
"It's a work in progress," Teixeira said. "It was a little bit of a tough transition at first."
Teixeira got good enough defensively that the Rangers didn't complete a deal this winter with Carlos Delgado, who wanted to remain primarily at first base. The Rangers wanted the free agent as a designated hitter.
Teixeira was willing to switch positions, likely to the outfield, to help get a deal done. But he was glad he didn't have to.
"I wanted to stay at first the whole time, but I would have been willing to make a sacrifice and move because it could have made our team better," he said. "But I love first base. I want to get better, and with our infield staying intact, that's the best thing for the team."
Copyright 2018 The Associated Press. All rights reserved. This material may not be published, broadcast, rewritten or redistributed. We strive to uphold our values for every story published.