Riyadh, Saudi Arabia — Each day she sits alone, scribbling thoughts on scraps of paper. She stuffs them in a bottle given to her years earlier by her grandmother, who said it should serve as a place for private feelings that Arab society would not tolerate from a woman if uttered aloud.
The bottle fills, the woman ages. The life it holds on a million pieces of paper remains undiscovered, stifled and secret.
The story is the work of Yousef Mohaimeed, a Saudi author, who, like many in a new generation of rising fiction writers here, is taking on some of the most divisive subjects in the Arab world. The work is drawing attention, here and abroad.
Two months ago, a group of men entered a bookstore on one of the capital's broad avenues, lined with designer boutiques and glass-and-steel shopping malls. They seized copies of "The Bottle," which includes an unflattering portrayal of an Islamic militant, after it had sold 500 copies in just three days, a feverish pace in the kingdom. Although the government had approved the book for sale, the men warned the shop not to carry it again.
"It's not only political pressure that can hurt you but also pressure that comes from within this society," said Mohaimeed, 40, the culture editor of Yamama, a literary magazine published here. "The difference between the new Saudi novelists and the old ones are the places they pick to write about. The old ones wrote about the outside, but I feel I should be writing about my place, my people, our suffering."
Politically charged
Pioneered two decades ago by men whose work is banned here, a genre of politically charged fiction in Saudi Arabia is now being produced by more writers and in greater quantity than ever before, according to academics and publishers increasingly interested in the work. It marks an artistic advance in a society in which writers have long confronted the deadening effect of state censorship and a milestone in a desert kingdom whose people were mostly illiterate a generation ago.
The writing reflects the rising discontent in the kingdom and across the Middle East, where young populations increasingly exposed to Western ideas are demanding more social and political freedom. By taking on the powerlessness of women, the tyranny of tribal society and the role of religion in the birthplace of Islam, the writing is slowly undermining the cultural conventions that have kept provocative fiction off book shelves here for years.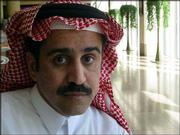 Much of the work, ranging from lyrical allegory to sparse realism, is prohibited from publication inside the kingdom as the ruling Saud family weighs the competing demands of a fledgling democratic-reform movement against those of a far larger population of conservative Muslims fearful of change. Banned books arrive smuggled in suitcases or from foreign publishing houses with the permission of capricious Saudi censors, whose red lines remain unwritten.
"They have to confront the system in an indirect way, yet still they can't get their work published here," said Salih Altoma, professor emeritus of Arabic and comparative literature at Indiana University, whose anthology "Modern Arabic Literature in Translation" is scheduled for publication in May. "But lately they have become more open, perhaps you could say more critical and candid, in reflecting on some very controversial issues."
Wellspring of poetry
The Arab world traditionally has been a wellspring of poetry, the literary form in which everything from social rules to history was recorded. Its prose, however, had never drawn much attention until the Egyptian novelist Naguib Mahfouz was awarded the Nobel Prize in 1988. As if overnight, hundreds of other Arab writers came into international focus as a result.
But state censorship and small markets have hampered fiction publishing in the Arab world, where a book that sells 5,000 copies is considered a best-seller. The 2003 United Nations Arab Human Development report noted that although Arabs constitute 5 percent of the world's population, Arab countries produce just 1.1 percent of its books. In the past 50 years, fewer than 350 Arabic novels and short stories have been translated into English, meaning the enormous Western book market is largely unavailable to Arab writers.
Copyright 2018 The Lawrence Journal-World. All rights reserved. This material may not be published, broadcast, rewritten or redistributed. We strive to uphold our values for every story published.