St. Petersburg, Fla. — Roberto Alomar retired Saturday, ending a 17-year career in which he became one of baseball's best second basemen and, for a time, its most scorned player.
The 12-time All-Star called it quits with Tampa Bay, finishing just 276 hits shy of 3,000. He led Toronto to consecutive World Series titles in 1992-93 and was considered by many a lock for the Hall of Fame until a swift decline the last three seasons as he drifted from team to team.
Alomar's legacy was tarnished, however, when he spit in the face of umpire John Hirschbeck in 1996 while with Baltimore. The messy confrontation made front-page news all over the country and turned Alomar into a target for angry fans throughout the majors.
He made matters worse afterward by saying he thought Hirschbeck was under stress because his 8-year-old son, John Drew, had died of a rare brain disease three years earlier, prompting the umpire to charge into the Orioles' clubhouse looking for Alomar.
Yet soon, the two became friends, and even worked together to raise money to fight that brain disease. And now Alomar deeply regrets losing his temper during a heated argument over balls and strikes.
"I wish it never happened," Alomar said, "and I hope that's not how people remember me."
Alomar's announcement came one day after he committed two errors in one inning of a spring-training game with the Devil Rays, who signed him to a $600,000, one-year contract in January.
Tampa Bay was attractive to Alomar because he wanted another chance to play every day, but the 37-year-old switch-hitter has been bothered by back and vision problems in recent weeks.
"I played a lot of games, and I said I would never embarrass myself on the field," Alomar said. "I had a long career, but I can't play at the level I want to play, so it's time to retire."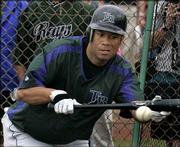 He said he had doubts even entering camp.
"I just can't go anymore," Alomar said. "My back, legs and eyes aren't the same."
Alomar also played for San Diego, Cleveland, the New York Mets, Arizona, and the Chicago White Sox during 17 seasons in the major leagues. In his prime, he was one of the best all-around players in the game, blessed with speed, smarts and extra-base power.
He became the biggest star in a famous baseball family. Alomar's older brother, Sandy Jr., is a catcher with Texas who is entering his 18th major-league season. They were teammates in San Diego, Cleveland and Chicago. Their father, Sandy, spent 15 seasons in the big leagues and now is a coach with the Mets.
A 10-time Gold Glove winner and career .300 hitter, Roberto Alomar was an All-Star for 11 consecutive seasons in 1991-2001, but struggled while batting .266, .258 and .263 the past three years.
In 2004, he missed two months because of a broken right hand and finished with four homers and 24 RBIs in 56 games for the Diamondbacks and White Sox.
Tampa Bay general manager Chuck LaMar said there always would be a place in the organization for Alomar, even though he never played a regular-season game with the team.
"We wanted to give him a chance," LaMar said.
Copyright 2018 The Associated Press. All rights reserved. This material may not be published, broadcast, rewritten or redistributed. We strive to uphold our values for every story published.