OKLAHOMA CITY — Keith Langford had no comment on how he felt Friday.
To admit he still was sick, still banged up, and probably extremely exhausted would be making excuses for a sub-par performance.
Langford wasn't about to take that road.
Kansas University's 64-63 loss to Bucknell in the first round of the NCAA Tournament on Friday could've been followed with reasons why things were crummy for the Jayhawks, but Langford had none to give -- especially about himself.
"I didn't feel great, but I was out there, so there's no excuses," said Langford, who had six points on 1-of-7 shooting. "Coach thought putting me in the lineup would give us the best opportunity to win the game."
Pretty impressive, considering the senior has been dealing with a nasty bout of stomach flu for more than a week now, coupled with a lingering ankle injury. Just two days before Friday's game, KU coach Bill Self thought it was highly doubtful Langford would play.
As it turned out, Langford played 26 minutes -- and his teammates were grateful for all of them.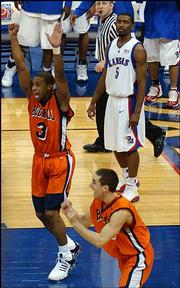 "It meant a lot to this team," senior Michael Lee said. "He defined the type of person he is tonight. Obviously, Keith wasn't 100 percent, but he never made an excuse. It gave us an emotional boost to know that Keith was in there fighting."
Just 25 seconds before the final buzzer, it seemed Langford was the one raining on Bucknell's parade. His two free throws gave the Jayhawks a 63-62 lead and gave fans a feeling that somehow the Jayhawks were going to pull it out, just as they had in each of the last 21 first-round tournament games.
But Chris McNaughton's bucket with eight seconds remaining wrapped up the careers of KU's four seniors, Langford included.
Copyright 2018 The Lawrence Journal-World. All rights reserved. This material may not be published, broadcast, rewritten or redistributed. We strive to uphold our values for every story published.