OKLAHOMA CITY — Could it be an omen? Or is it a hoofed, horned happenstance?
To Bucknell University Bison fans, the 100 painted buffalo lining the streets of Oklahoma City point to a win for their team as they match up against Kansas University in the first round of the NCAA Men's Basketball Tournament.
But Oklahoma City officials promise the "Spirit of the Buffalo" effort -- which is similar to the Jayhawks on Parade in Lawrence in 2003 -- has nothing to do with Bucknell and won't be taking sides in tonight's matchup between the two schools.
"We'll ask the buffalo to stay out of it," said Jenny Hendrick, who co-chaired the campaign. "They do have the power to sway the game, but they won't be involved. We're trying to be neutral hosts."
The buffalo have been on the streets since January 2004. The Nature Conservancy started the drive as a fund-raiser and to promote awareness of native prairies.
But for Michael Dewey, a Bucknell fan from Oklahoma City, the common buffalo mean nothing more than a sign his team will win.
"It's just destiny," he said with a shrug.
With Oklahoma City's cowboy heritage, there are plenty of other bison references around town.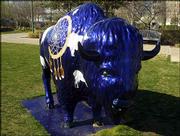 When KU fans gather tonight for a pep rally at the Bricktown Brewery, they'll have the option to purchase a Bison Weizen beer, and the gathering takes place adjacent to the bar's Buffalo Room.
"My thought is it could work in the Jayhawks' favor," bar manager Charles Stout said. "They'll consume the bison beer and destroy the spirit of the bison."
Still, Chris Calvird, a KU fan from Oklahoma City, said he might be a little uncomfortable with the bison around town.
When: 8:50 tonightWhere: Ford Center, Oklahoma CityTelevision: CBSRecords: KU, 23-6; Bucknell, 22-9Line: KU by 13 1/2
"You think it's a bad omen?" asked Calvird. "I might need to tip one of them. There's one near my house -- I could stop by tonight."
Copyright 2018 The Lawrence Journal-World. All rights reserved. This material may not be published, broadcast, rewritten or redistributed. We strive to uphold our values for every story published.