OKLAHOMA CITY — After watching the Jayhawks on TV all year, Dennis Bates and his 4-year-old son, Jackson, were thrilled to get their first live glimpse of the team.
It came at Thursday's open practice at the Ford Center.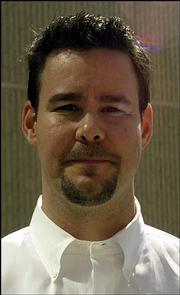 "That's my team," said Dennis, who lives in Perkins, Okla. "Those are my boys -- always have been. KU basketball has always been a way of life for me. I'm just glad they're in Oklahoma City, so we can see them."
Many of Bates' family members are KU graduates, and his sister, Lisa Williams, is principal at Langston Hughes School.
¢
Even as J.R. Giddens has struggled this season, John Martin remains high on the sophomore.
Martin was Giddens' coach during his senior year at Oklahoma City's John Marshall High; the team took the state 5A championship.
"His athletic ability ranks him up there with anybody who's come out of the state, as far as I'm concerned," he said.
Martin said he thought Giddens needed to get away from simply shooting three-pointers, which has been his main duty much of the season.
"He needs to start going to the hole a little more, and he'll get fouled or dunk over people," Martin said.
He said his most memorable moment coaching Giddens was toward the end of a game against Midwest City High, when the player was dribbling beyond the top of the key and suddenly exploded toward the basket.
"He does the splits over the guy and dunks," Martin recalled.
That guy? Darnell Jackson, now Giddens' teammate at KU.
¢
If birds of a feather flock together, Chris Condren might be an ugly duckling surrounded by Sooners and Cowboys.
Condren, a 1973 KU graduate, is president of the KU Alumni Association chapter in Oklahoma City. An attorney, he has learned to mediate disagreements with fans of the University of Oklahoma and Oklahoma State University.
"It's tough," he said. "Jayhawks aren't meant to live on this barren red-clay soil. It's not conducive to Jayhawk fans. Those of us who are thick-skinned can tough it out."
The OKC alumni chapter has between 700 and 800 members and regularly hosts events to watch games on TV. It's even better when the Jayhawks come to them.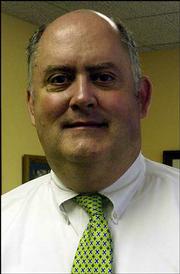 "As a Jayhawk fan and alumni, we're thrilled when they come to Oklahoma City," he said. "It's a chance to see the team play and see the fans that come down to watch them."
After graduating from KU with degrees in history and speech communications, Condren went to law school at OU. But there's no question where his allegiances lie.
"If you want to look around and see if I have any OU stuff around my office, go ahead," he said. "It's not there."
Copyright 2018 The Lawrence Journal-World. All rights reserved. This material may not be published, broadcast, rewritten or redistributed. We strive to uphold our values for every story published.