The billions of microbial algaes, lichens and molds clogging the pores of Allen Fieldhouse's limestone exterior must feel a little bit like Kansas State Wildcats right about now.
The visitors don't stand a chance.
Black and brown grime that has built up throughout the fieldhouse's 50 years as a hoops hotbed is about to be eaten away by the environmentally gentle-yet-effective cleaning products produced by a Lawrence company.
And it won't come a moment too soon.
"Ever since I was a student at KU, I've been aware of how important that building is -- to me and every other Jayhawk fan," said David Boyer, president of Prosoco Inc., based in the East Hills Business Park. "So I'm excited to have one of my family's products play such an important part in putting a good face back on Allen Fieldhouse.
"You couldn't ask for a better time to get started than March Madness and the 50th anniversary of the fieldhouse's construction."
The cleaning project -- a complete scrubbing, power-washing and sealing of the building's prominent limestone exterior -- is scheduled to begin next week.
Handling the $165,000 contract is Western Waterproofing, of Kansas City, Mo., using one of Prosoco's signature products: Enviro Klean BioKlean.
Three-month season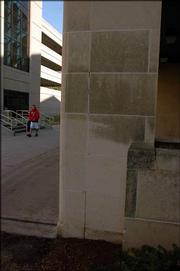 John Burger, a department manager for Western Waterproofing, said the job would require 700 gallons of the cleaning solution, which combines light detergent with a product that acts like hydrogen peroxide on a fresh scrape.
"It kind of boils," Burger said.
Burger's four-member crew plans to start putting up scaffolding next week, the beginning of a three-month job. Provided temperatures stay above 40 degrees and it doesn't rain, the workers will go about their business: spraying on cleaner, scrubbing it in and waiting for 20 minutes or so before rinsing it off with high-pressure water fired at 3,500 pounds per square inch.
Gone will be the blackish coating that has marred the building's exterior for years, he said. Even the familiar yellowish hue of the stone -- caused by rust from iron oxide inside the rock -- will be rinsed away, leaving the place with a look similar to its grand opening in 1955.
"It will be almost breathtaking," said Burger, who has worked on other cleaning products for the Kansas University Athletics Department, including Memorial Stadium. "Once we get done, people won't remember how dirty it was. It's going to look like a brand-new building, only the kind they don't build anymore."
The process also will include application of a protective treatment, designed to keep moisture from seeping back into the stone -- a move intended to keep mold and, to some extent, rust from returning for at least seven years.
A handful of test applications conducted earlier this week, including one next to plants at the northwest corner of the fieldhouse, convinced KU officials that they had the right contractor, and products, on the job.
"We're getting rid of 50 years of grunge and soil and mold," said Mark Reiske, KU's associate director of design and construction management. "It looks pretty darn white."
Prominent jobs
Prosoco, with about 80 employees working at the headquarters, has a long history in the cleaning business. In 1939, Al Boyer founded Process Solvent Co., later abbreviated to Prosoco, in the garage of his Kansas City-area used car dealership.
Its products have been used to clean stone, brick and other materials at the U.S. Capitol, Empire State Building, Grand Central Station and Carnegie Hall. A makeshift solution even cleansed King Kong's blood -- Karo syrup and red food coloring -- from terra cotta at the World Trade Center, after filming of the 1976 movie remake.
The fieldhouse job soon will join the other prominent structures with a Prosoco clean.
"It's cool," said Mike Dickey, a Prosoco representative who works for Frieze & Associates in Lenexa. "We've been entrusted with a lot of important buildings, and this is one of the big ones."
Copyright 2018 The Lawrence Journal-World. All rights reserved. This material may not be published, broadcast, rewritten or redistributed. We strive to uphold our values for every story published.