For the past month, the public has been free to discuss developments in the murder trial of Kansas State University professor Thomas E. Murray.
Not the 12 jurors who will decide the case -- they were prohibited from talking about any of the evidence.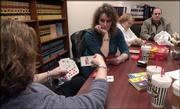 That's one reason attorneys weren't surprised Wednesday that, despite two full days of deliberations, the jury hadn't yet reached a verdict.
"They're doing their job. It's hard work, and there's a lot to do," Assistant Dist. Atty. Amy McGowan said. "They can't talk about anything (during the trial), so this is their first real opportunity to do it."
So far, jurors have spent about 17 hours discussing the case.
They left the Judicial & Law Enforcement Center, 111 E. 11th St., shortly before 5 p.m. Wednesday after coming in at 9 a.m. Their schedule was similar Tuesday, and they had deliberated for about an hour Monday afternoon after closing arguments.
Jurors have not asked for any testimony to be read back to them in open court. The only sign of what's happening in the jury room came Tuesday when a TV used to show Murray's more than nine-hour statement to police was removed from the courtroom, apparently to let jurors watch the recording.
Family members of victim Carmin D. Ross, Murray's ex-wife, again spent the day together out of public view in a conference room inside Dist. Atty. Charles Branson's office.
Copyright 2018 The Lawrence Journal-World. All rights reserved. This material may not be published, broadcast, rewritten or redistributed. We strive to uphold our values for every story published.