In the nearly empty courtroom Tuesday, a CBS News crew trained a video camera at the clock on the wall. Nearby, bailiff Lewis Roberts sat guarding the door leading from the courtroom to the jury room.
Down the hall and out of public view, family members of victim Carmin D. Ross waited together inside Dist. Atty. Charles Branson's office.
And after one full day of deliberation, jurors still hadn't reached a verdict in the first-degree murder trial of Ross' ex-husband, Kansas State University professor Thomas E. Murray.
"We're waiting for what we think is going to be the right decision," Ross' father, Danny Ross, said at the end of the day as he left the Judicial & Law Enforcement Center, 111 E. 11th St.
The 12 jurors walked out of District Court about 5 p.m. after a day of deliberations that began at 9 a.m. They had previously deliberated for about an hour Monday afternoon following closing arguments.
One floor below the Ross family, Murray spent the day waiting in a basement holding cell. Part of his day was spent talking with his defense team.
"He's composed, and certainly concerned," defense attorney Bob Eye said.
Murray is charged with stabbing and beating Ross in November 2003 at her home northwest of Lawrence. Prosecutors allege he grew enraged when he learned Ross' fiance was moving temporarily from California to Lawrence -- and that Ross planned to later move to California with the couple's 4-year-old daughter.
Ross' fiance, Larry Lima, was among those waiting Tuesday in the courthouse. He said he was trying to not feel a sense of attachment to the outcome of the trial.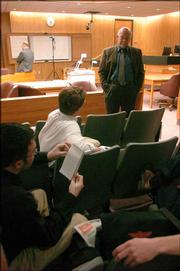 By midafternoon, there were signs jurors were watching Murray's 9.5-hour statement to police, which is considered to be some of the strongest prosecution evidence. A TV and DVD player were removed from the courtroom, apparently for jurors to use during their deliberations.
But Assistant Dist. Atty. Angela Wilson stopped short of saying that was a good sign for prosecutors.
"I don't think that the jury would make a decision one way or another in this case without looking at the video again," she said. "I think jurors in our county tend to be very thoughtful about what their job is."
Defense attorney Eye pointed out the trial involved about 400 exhibits and 50 witnesses, which jurors needed time to discuss. Eye said he didn't know whether longer deliberations favored the prosecution or defense.
"I've never had a strong sense that duration of deliberations is a reliable predictor of an outcome," he said.
Eye said he wouldn't speculate about what was happening in the jury room.
"It takes up the time, but it's not exactly the most satisfying way to spend time," he said.
Others waiting for the verdict inside the building Tuesday included police, about 20 journalists and a group of Kansas University students who are taking a criminal-law course taught by District Court Judge Robert Fairchild, who presided at Murray's trial.
Copyright 2018 The Lawrence Journal-World. All rights reserved. This material may not be published, broadcast, rewritten or redistributed. We strive to uphold our values for every story published.