Los Angeles — It's not exactly that Petra Haden isn't taking this thing seriously. It's just that it was really a private project taken on as an exercise, and she had no intention of playing it for anyone except friends, primarily Mike Watt, the Los Angeles musician who challenged her to try it in the first place.
Anyway, who in the world would want a start-to-finish, home-recorded re-creation of the Who's classic 1967 album "The Who Sell Out," done entirely a cappella, with Haden's multitracked singing emulating every instrumental and vocal line of the original? Especially when her results weren't exactly state of the art.
That's why Haden, one of jazz musician Charlie Haden's triplet daughters and a longtime presence on L.A.'s pop and experimental music scene, can't quite get her head around the way this thing is taking on a life of its own.
"I played it for Watt over the phone," she said. "He said, 'Great, now put it out.' And I thought, 'Are you serious?' ... It's really lo-fi. I was reading the lyrics and you could hear the paper crinkling, you could hear tape noise. I recorded some of the tracks wrong and my voice wasn't all there, like I recorded it underwater."
But after a little Pro Tools cleanup and a touch of reverb, the CD of "Petra Haden Sings: The Who Sell Out" was released last month by the independent label Bar/None, and now she has a new set of concerns.
"I'm kind of nervous about what these die-hard Who fans are going to think," she says, fretting her way through lunch at a deli near her sister Tanya's Los Angeles home. "Like, they're going to want to kill me."
Not the Who fan who matters most.
"I heard the songs as if for the first time, and I was really pleased to hear how beautiful they are," says the Who's Pete Townshend. "In many cases Petra has released nuances that might be lost to the casual listener to the Who's album. For example, the vocal harmonies on 'I Can See for Miles' are carefully analyzed, and you hear all the parts. ...
"She's so smart because she listened first to what was on the original record before she started her own thesis with it. That is such a gift for one musician to give another -- to really listen."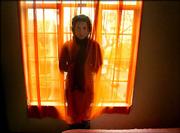 "The Who Sell Out" is Townshend's favorite Who album, an opinion shared by many fans of the English band. Simultaneously a celebration and a spoof of the era's pop radio experience and the youth culture it embodied, it stitched together a set of varied songs with original jingles for Radio London and comical commercials for such products as Odorono deodorant.
Musically, the album brought out a lot of the Who's Beach Boys side, as well as touches of music hall and even some jazz vocals. There were seeds of "Tommy" and "Quadrophenia" in the project, and though the album wasn't a commercial hit, the taut, explosive "I Can See for Miles" became the Who's only U.S. Top 10 single.
Watt's challenge struck Haden as "off the wall," but to Townshend the undertaking made perfect sense.
"The original Who album was a crazy concept, and Petra's action is equally nuts," says the musician, responding by e-mail to questions on the project. "Take a load of talent and chance it on an art-school exercise in installation recording. I really feel she has done something entirely new here. ... I love this CD, and Petra puts me in an Odorono sweat."
Copyright 2018 The Lawrence Journal-World. All rights reserved. This material may not be published, broadcast, rewritten or redistributed. We strive to uphold our values for every story published.