DAYTON, OHIO — It took eight years in Division One for Oakland to get its first win in the NCAA Tournament.
As a reward, the Golden Grizzlies get to play top-seeded North Carolina -- in Charlotte, N.C., no less.
Oakland broke open a tight game behind Rawle Marshall's 29 points and Cortney Scott's 21 to beat Alabama A&M;, 79-69, Tuesday night in the opening round of the NCAA Tournament at the University of Dayton.
"There can't be too many colleges who can say they won a game in the NCAA Tournament," a grinning Marshall said. "We'll ride this momentum and see how far it takes us."
The Golden Grizzlies (13-18) won their sixth game in a row, including three upsets in as many days last week by a combined seven points to take the Mid-Continent Conference title, giving them a berth in the field of 65.
"If we win the national championship, we'll finally get to 19-18," coach Greg Kampe said with a laugh.
Now they get to play the mighty Tar Heels on their home turf.
"To play against some of the No. 1 players in the nation -- it'll be great to put your talent up against them and see where you stand," Scott said.
Oakland became only the fifth team with a losing record to win an NCAA Tourney game, following Bradley in 1955 and the last three years at the Dayton opening round: Siena in 2002, UNC-Asheville in 2003 and Florida A&M; a year ago.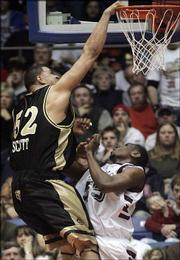 "There was a whole lot of adversity during the season," said Brandon Cassise, who chipped in with 13 points. "It brought us together. That's why we've played so well in these do-or-die games."
Obie Trotter scored 24 points, and Joseph Martin added 22 for Alabama A&M; (18-14), regular-season and tournament champion of the Southwestern Athletic Conference.
Both teams were making their first appearance in the NCAA Tournament. Oakland made the jump from Division Two to Division One in the 1997-98 season.
As the Golden Grizzlies stretched the lead to 21 points with five minutes left, the emboldened Oakland student section began chanting, "We want Tar Heels! We want Tar Heels!"
The turnaround is almost incomprehensible for a team that was 7-18 and riding a three-game skid just 18 days earlier. Almost as incredible, Oakland opened the season 0-7, losing by an average of 13 points a game, against Division One schools Illinois, Marquette, Xavier, Missouri, Texas A&M;, Kansas State and Saint Louis.
Marshall, a wiry, 6-foot-7 senior swingman expected to be taken in the NBA draft this spring, was the focal point for the Golden Grizzlies most of the night.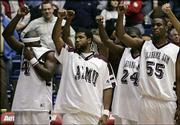 He was 9-of-16 from the field, including 3-for-4 on three-pointers and 8-of-11 in free throws, to go with nine rebounds and three assists.
Marshall's most dramatic play came in the opening half. He took a pass on the right elbow, pump-faked a defender off his feet and then sliced through the lane for a soaring dunk and a foul. A crowd of 8,254 roared its approval.
Ahead 38-35 at the break, Oakland scored 16 of the first 18 points in the second half.
Patrick McCloskey, who had sleepwalked through the first half with no points and two rebounds in 12 minutes, led the surge with five points, five rebounds and a blocked shot. The 260-pound Scott, a transfer from Iowa, added four points on two twisting inside moves, Cassise came off the bench for two baskets and Marshall hit a three-pointer.
"It took us awhile to learn how to play against their speed," Kampe said. "We completely controlled the tempo the rest of the game."
The Rochester, Mich., school with an enrollment of 16,500 pushed the lead to 54-37 and the lead never dropped below double digits.
"This is surreal," Cassise said. "I can't believe it's all happening."
A&M; coach L. Vann Pettaway said his team was worn out from playing four games in six days, winning the conference tournament Sunday before hitting the road less than 24 hours later to make it to Dayton.
"We want to get back to the big dance," he said, "but we want to dance when we're rested."
Copyright 2018 The Associated Press. All rights reserved. This material may not be published, broadcast, rewritten or redistributed. We strive to uphold our values for every story published.