Lewisburg, Pa. — As a boy who grew up in one of 50 homes in a small German country town, Bucknell center Chris McNaughton really cherished his summers in the United States.
The highlights from his family's bi-annual excursions:
Trips with his younger brother, Jonathan, to any Civil War site or museum they could find on the East Coast.
Visits to the North Carolina beaches with his parents David and Christa; brother; sister, Katharina; and other family members.
Treks to Washington Redskins training camp with his grandfather.
"That was the big thing for us, four or five weeks in the States," McNaughton said. "And I have all the Redskins gear to prove it."
McNaughton wasn't a proven basketball player in his formative years.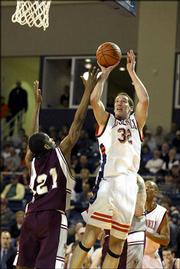 In fact, he wasn't a basketball player at all. He was raised on the only sport that matters in Europe: soccer.
"It was school and soccer," he said. "That was it."
That changed when he outgrew the sport and picked up basketball pretty fast as a teenager.
The transformation continued with a phone call from a Bucknell assistant basketball coach, and the addition a year later of athletic scholarships at the Patriot League school.
McNaughton, a 6-foot-11 sophomore, is the league's most dominant post player and an integral part of the Bison's first league title.
The 22-year-old is preparing for Bucknell's third trip to the NCAA Tournament, with a first-round pairing Friday with perennial national power Kansas University.
"Playing basketball in the States is a dream," McNaughton said. "It was something I always wanted to do. When I had the chance, it wasn't a question of whether I would do it, but when."
His passion for the game was obvious to his parents when he and his brother would set their alarm for 3 a.m. to watch the NBA Finals live.
Magic Johnson and Michael Jordan were to blame.
"We'd watch the game, then just stay up until it was time for school," he said. "I don't think my mom liked that too much."
McNaughton -- whose father played football and rugby at Lafayette before going to Germany to serve in the Army for four years -- played for Germany's U-20 national all-star team at 17 years old.
"The first I heard about him, they said he was raw," Bucknell coach Pat Flannery said. "The first time I saw him, he wasn't that raw. He just needed some polish."
With an athletic scholarship waiting for him at Bucknell, McNaughton knew the time to leave was now.
"Here, you could get a 2-for-1," McNaughton said. "And my mom's big thing was academics. What if I got hurt, blew out my knee? I'd be sitting around with a high-school degree."
Copyright 2018 The Lawrence Journal-World. All rights reserved. This material may not be published, broadcast, rewritten or redistributed. We strive to uphold our values for every story published.