Cleveland — LeBron James doesn't miss Carlos Boozer nearly as much anymore. Cleveland fans, though, still are dealing with some separation anxiety.
James scored 36 points in 34 dominant minutes against Boozer's new team, leading the Cavaliers to their third straight victory, an easy 92-73 rout of the cold-shooting Utah Jazz on Tuesday night.
James went 11-of-15 from the field, 12-of-16 on free throws, added nine rebounds and had a perfectly balanced performance. Of his 36 points, 12 came in the paint, 12 came from the line and the other 12 came on outside jumpers.
"Oh, God," Cavaliers coach Paul Silas said. "He's the best 20-year-old I've ever seen. Overall, he was just magnificent. I don't think I've ever seen him make as many outside shots."
Drew Gooden, acquired by Cleveland in a trade last summer to replace Boozer, added 10 points and 10 rebounds.
Utah, which scored just 62 points in a loss at Detroit on Sunday, scored nine in the second quarter and went 27-of-81 from the field. Andrei Kirilenko had 14 points -- 12 in the first quarter -- and Matt Harpring added just six on 2-of-11 shooting as the Jazz lost their sixth straight.
The club also had to endure the wrath of Cleveland fans upset that Boozer, sidelined because of a sprained foot, didn't make the trip. He's now considered a traitor here for signing a $68 million free-agent deal with the Jazz eight months ago.
"We've moved on," James said. "We're still friends with him. All that other stuff is between Carlos and them."
The Cavs insisted they had an understanding with Boozer that he would stay with them. He says leaving was simply a sound business decision.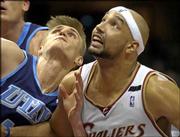 Whatever happened, Cleveland fans haven't forgiven him.
"They were football fans tonight," said Harpring, who played one season with the Cavaliers. "Cleveland doesn't forget. It was hostile."
Sonics 99, Bulls 93
Chicago -- Rashard Lewis scored 30 points and Ray Allen had 17 points and seven assists to lead Seattle over Chicago. Lewis hit 11-of-14 field goals while Allen struggled with 5-of-18 shooting.
Ben Gordon had 11 of his 21 points in the fourth quarter for Chicago. He made two free throws to cut the Sonics' lead to 93-91 with 50.3 left.
Antonio Daniels then found Nick Collison for an easy basket for the Sonics. Collison scored five points, and Chicago's Kirk Hinrich scored seven in a matchup of former Kansas University standouts.
76ers 108, Lakers 91
Philadelphia -- Allen Iverson kept scoring when Kobe Bryant faltered, and kept Philadelphia close to the division lead. Iverson outperformed Bryant, scoring 36 points and leading a decisive third-quarter run in the 76ers' win over Los Angeles.
Timberwolves 100, Mavericks 91
Dallas -- Kevin Garnett scored 11 of his 25 points in the fourth quarter and Sam Cassell celebrated his return to the lineup with a key three-pointer in the closing minutes, helping Minnesota spark its playoff hopes with a victory over Dallas.
Kings 105, Magic 94
Sacramento, Calif. -- Mike Bibby scored 10 straight fourth-quarter points with three three-pointers and Sacramento sent Orlando to its season-worst fifth consecutive defeat. Peja Stojakovic scored 27 points and Bibby had 21 points, 10 assists and six rebounds in the Kings' 10th straight victory over Orlando at Arco Arena.
Heat 98, Knicks 96
New York -- Dwyane Wade hit a 22-foot fadeaway jumper at the buzzer, extending Miami's winning streak to 10 games and making the Heat the first team to clinch a playoff spot. Miami also became the first team in the league to reach 50 wins this season.
Copyright 2018 The Associated Press. All rights reserved. This material may not be published, broadcast, rewritten or redistributed. We strive to uphold our values for every story published.