Jerusalem — Leaders and dignitaries from some 40 countries opened a $56 million Holocaust museum Tuesday that focuses on the personal tragedies of the 6 million Jews who perished in the Nazi genocide.
The new Holocaust History Museum at Jerusalem's Yad Vashem memorial took 10 years to complete. The building, designed by Israeli-American architect Moshe Safdie, spans more than 45,000 square feet -- four times larger than the museum it replaces.
Hundreds of police patrolled Jerusalem to protect the visitors, among them 15 heads of government and state. Major thoroughfares were closed to traffic, and a bomb squad carried out numerous sweeps.
On hand for the inaugural ceremonies were U.N. Secretary General Kofi Annan; the presidents of Albania, Bosnia & Herzegovina, Croatia, Lithuania, Poland, Serbia & Montenegro and Switzerland; prime ministers from France, Sweden, Netherlands, Belgium, Denmark and Romania, and foreign ministers of Germany, Norway and Spain.
Israeli President Moshe Katsav cut the ribbon opening the building, ahead of a state inauguration ceremony later Tuesday.
"This is a moment of commemoration for the 6 million murdered by Nazi Germany," German Foreign Minister Joschka Fischer said in Jerusalem.
"Of course, Germany is my country, so it's also a historical and moral responsibility to never forget what happened and the responsibility of my country for the Shoah," he added, using the Hebrew word for Holocaust.
Representing the United States was New York City Mayor Michael Bloomberg.
"Freedom is something we constantly have to fight for and if we ever compromise our standards, we see just how far it goes," Bloomberg told reporters. "We cannot allow intolerance any place against any people."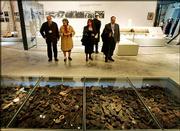 To give a human dimension to Holocaust statistics, some 90 personal stories are woven into the museum's displays, which also feature some 280 works of art.
A video projected onto the wall of the entrance shows daily Jewish life in Europe in the 1920s and '30s. Visitors can walk through a typical living room of a Jewish family in Germany in the 1930s. A life-size replica of the Warsaw Ghetto's Leszno Street features cobblestones, a 1940s tram track and lampposts replete with shrapnel holes from the Jewish uprising -- all donated by the Polish capital.
The museum displays a three-tiered wooden barracks where concentration camp inmates slept, a cattle wagon that transported Jews to their deaths and a small fishing boat that ferried Danish Jews to safety in Sweden.
Underground galleries on either side of a 600-foot central walkway topped by a skylight guide visitors through the history of Adolf Hitler's Final Solution: prewar life, anti-Semitic laws, roundups, deportations, mass executions, death camps.
Israel's Yediot Ahronot newspaper said in an editorial Tuesday that the new museum will help restore a sense of individuality to the anonymous murders of the Holocaust.
"The Nazis took away the Jews' individuality before they took away their lives," the paper said.
"There isn't a visitor to the museum who can emerge without feeling a sense of personal closeness and personal loss."
Copyright 2018 The Associated Press. All rights reserved. This material may not be published, broadcast, rewritten or redistributed. We strive to uphold our values for every story published.