Dallas — A man squeezed through the sunroof of a Jaguar early Tuesday and opened fire with an assault rifle on another moving vehicle, killing three men and critically wounding a fourth, police said.
Authorities were searching for the gunman and two others who may have been riding in the light-colored Jaguar with fancy wheels, police said.
University Park Police Capt. Robert Brown said the shooting may have stemmed from a scuffle at a bar earlier in the evening. He said the shooter apparently waited for the other party to leave the bar, and then followed in the Jaguar. The shooting occurred around 2 a.m. on a highway frontage road near the Southern Methodist University campus, police said.
"Apparently, there was a dispute on the dance floor in which somebody got hit or punched," said Mike Turiace, who was tending bar at Jack's Pub & Volley Ball club Monday night. "The guy just got angry and decided to pursue it."
A police officer waiting at a traffic light at the intersection witnessed the shootings and stopped to help when the gunned-down car crashed, Dallas Police Sgt. Gil Cerda said. Police policy prohibited the officer from pursuing the fleeing Jaguar because he already had a prisoner from an unrelated case in his back seat.
Turiace and others said Jack's Pub is normally a safe, friendly place that hosts festivals and volleyball matches and attracts a college crowd from SMU.
But the clientele shifts a bit on Monday nights, when the bar advertises $2 drinks and a packed dance floor thumping with two DJs.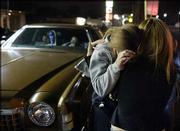 "There's arguments, there's altercations, people that need to be escorted out, just like any other bar," the bartender said.
Turiace said the fight didn't cause a big stir in the crowded pub, but its policy is to escort instigators outside after a fight.
"It wasn't anything out of the ordinary that would lead to this. I guess certain people have it in their minds that this is their type of proper justice," Turiace said. "That really scares me."
Copyright 2018 The Associated Press. All rights reserved. This material may not be published, broadcast, rewritten or redistributed. We strive to uphold our values for every story published.