New York — Bernard Ebbers, the once-swaggering CEO of WorldCom, was convicted Tuesday of engineering the largest corporate fraud in U.S. history -- an $11 billion accounting scandal that capsized the big telecom company three years ago.
The verdict marked a colossal fall for Ebbers, who had turned a humble Mississippi long-distance provider into a global telecommunications power, swallowing up companies along the way and earning the nickname "Telecom Cowboy."
A federal jury in New York returned guilty verdicts on all nine counts, including securities fraud, conspiracy and lying to regulators -- a decision that could send Ebbers, 63, to prison for the rest of his life. Sentencing was set for June 13.
The former chief executive reddened deeply when the jury announced its verdict after eight days of deliberations, and his wife, Kristie, burst into tears in the courtroom's front row. Later, as his lawyer spoke outside, promising an appeal, Ebbers and his wife -- nearly toppled by the enormous crew of cameras and reporters camped outside the federal courthouse -- made their way to a nearby street, hailed a cab and drove away.
Atty. Gen. Alberto Gonzales called the conviction a "triumph of our legal system." He said the jury had recognized that the fraud "extended from the middle management levels of this company all the way to its top executive."
'WorldCom was Ebbers'
In a six-week trial, prosecutors painted Ebbers as obsessed with keeping WorldCom stock high, and panicked about pressure he was getting over $400 million in personal loans that were backed by his own WorldCom shares.
From late 2000 to mid-2002, the government claimed, Ebbers intimidated chief financial officer Scott Sullivan into covering up billions of dollars in out-of-control expenses and recognizing improper revenue.
"He was WorldCom, and WorldCom was Ebbers," prosecutor William Johnson told jurors. "He built the company. He ran it. Of course he directed this fraud."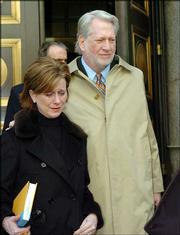 The defense claimed all along that the fraud was masterminded by Sullivan, who testified as the star government witness that Ebbers instructed him quarter after quarter to "hit our numbers" -- meet Wall Street expectations.
Ebbers himself took the witness stand at trial's end and flatly denied any role in the fraud. He said he viewed his role at the company as a visionary and cheerleader, was uncomfortable with accounting and left it to Sullivan.
"He's never told me he made an (accounting) entry that wasn't right," Ebbers said of Sullivan. "If he had, we wouldn't be here today."
The largely blue-collar jury of seven women and five men considered the case for eight days, an uncommonly long deliberation for white-collar cases, but never showed signs of discord.
The jurors were ushered away from the courthouse without speaking to the media, and Judge Barbara Jones instructed reporters not to badger them.
Defense plans appeal
Outside court, top defense lawyer Reid Weingarten said he was "devastated" but predicted Ebbers "will ultimately be vindicated" on appeal. He said he had no regrets about calling Ebbers to testify.
"I did not think Mr. Ebbers ever acted with criminal intent," he said. "Obviously we're disappointed by the result, but the fight will continue."
Legal experts said the appeal would be difficult. Weingarten said part of the case would center on prosecutors' refusal to grant immunity to three former WorldCom executives the defense wanted to call as witnesses.
The nine criminal counts against Ebbers -- securities fraud, conspiracy and seven counts of making false filings to the Securities and Exchange Commission -- carry up to 85 years in prison. He will be free on bail until sentencing.
The conviction comes more than two years after an internal auditor began asking questions about curious accounting at WorldCom, touching off a scandal that eventually unearthed $11 billion in cooked books.
With the entire telecom industry suffering a dot-com hangover, the fraud was driven by soaring "line costs" -- the fees WorldCom paid to smaller local telephone carriers to use their networks.
Besides Sullivan, three former WorldCom accounting officials who have pleaded guilty in the case testified they were pressured to cover up the expenses. Only Sullivan directly implicated Ebbers.
Ebbers still faces civil litigation, including from the company, which backed up his $400 million in personal loans when Bank of America demanded more and more collateral as the stock price fell.
The company struck a $750 million settlement with federal regulators to repay aggrieved investors, a small sum compared to the tens of billions of dollars of market capitalization that evaporated in the scandal.
WorldCom, which was based in Clinton, Miss., since re-emerged as MCI Inc., based in Ashburn, Va.
Twelve former directors of the company, plus some investment banks that underwrote WorldCom securities and auditing firm Arthur Andersen, also face a civil trial brought by angry investors. That trial is scheduled to get under way later this month.
White-collar criminals
In winning a conviction against Ebbers, federal prosecutors rang up another victory in a remarkable string of white-collar prosecutions that began in the summer of 2002.
Martha Stewart, Adelphia Communications founder John Rigas and former dot-com banking star Frank Quattrone were all found guilty during that stretch -- with the same prosecutor, David Anders, handling both Quattrone and Ebbers.
The prosecutors also have wrung guilty pleas from countless other executives, including ImClone Systems Inc. founder Sam Waksal and five other former WorldCom officials who agreed to cooperate against Ebbers.
Sullivan and the three former WorldCom executives who have pleaded guilty in the case still face sentencing. They hope to win lighter prison terms -- or none at all -- by cooperating with the government against Ebbers.
Copyright 2018 The Associated Press. All rights reserved. This material may not be published, broadcast, rewritten or redistributed. We strive to uphold our values for every story published.