Denver — The SEC charged former Qwest Communications CEO Joseph Nacchio and six other executives Tuesday with orchestrating a "massive financial fraud" at the telecommunications company that hid the true source of billions of dollars in revenue.
In a civil lawsuit, regulators blamed Qwest's problems on aggressive revenue and earnings targets set by Nacchio and others that created a "culture of fear" throughout the company.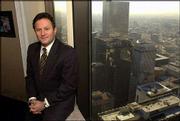 The charges say the fraud occurred between April 1999 and March 2002 and caused the Denver-based company to fraudulently report about $3 billion of revenue that was later restated and helped Qwest's 2000 merger with US West.
Also named in the SEC's complaint were former chief financial officers Robert Woodruff and Robin Szeliga; former Chief Operating Officer Afshin Mohebbi; Gregory Casey, a former executive vice president of Qwest's wholesale business; and James Kozlowski and Frank Noyes, two former finance executives.
The SEC said Nacchio, Woodruff and Szeliga directed and implemented the fraudulent scheme to meet revenue targets "at all costs."
To meet those targets, Qwest Communications International Inc. repeatedly and improperly booked immediate revenue from one-time sales of assets while falsely claiming to investors that the revenue was recurring, the SEC said. Nacchio, Woodruff and Szeliga also allegedly caused the manipulation of revenue associated with Qwest Dex, a wholly owned subsidiary. Nacchio has repeatedly denied wrongdoing regarding Qwest's past accounting practices.
In October, Qwest agreed to pay $250 million to settle the SEC's civil charges of a "massive financial fraud" at the company, which serves as the primary local phone provider in 14 states.
Copyright 2018 The Associated Press. All rights reserved. This material may not be published, broadcast, rewritten or redistributed. We strive to uphold our values for every story published.