'Extreme' Christian shop opens downtown
Lori Devins says she's doing God's work by opening a new business in downtown Lawrence.
Devins opened Extreme Christian Clothing this week at 938 Mass., offering religious-themed T-shirts, hats, jewelry, backpacks, pajamas and other accessories.
The idea is to do God's will, Devins said, by outfitting youths in togs she considers to be the new "hip hop" -- sporting slogans such as "Satan sucks" and "My God can kick your god's butt."
"What extreme means to me is extreme faith," said Devins, who opened her first shop in Topeka earlier this year. "Kids like extreme sports and extreme snowboarding, and this is like extreme faith: We're not afraid to shout it out and tell the world."
Devins, a member of Glad Tidings Church in Topeka, co-owns the two stores with her husband, Cris.
Earnings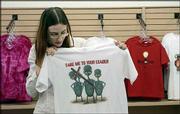 Protection One reports $324M yearly loss
Protection One Inc., a Lawrence-based provider of monitored-security services, said Tuesday that it held on to more customers last year and looked to a bright future in 2005, despite reporting a net loss of $323.9 million last year.
The company, which relocated to Lawrence from Topeka late last year, said that the loss reflected a $285.9 million noncash charge against income in the first quarter to establish a valuation allowance for nonrealizable deferred tax assets. Protection One reported a net loss of $34.4 million in 2003.
The company said that it lost 7.8 percent of its customers in 2004, down from 9 percent a year earlier.
Protection One shares closed at $19 Tuesday, unchanged in over-the-counter trading.
Compensation
Sprint, Nextel leaders in line for bonuses
Sprint CEO Gary Forsee could reap $20 million in bonuses from the company's planned merger with Nextel Communications, Sprint disclosed Tuesday in an SEC filing.
Nextel boss Tim Donahue also has access to the bonuses, available two years after the planned $36 billion merger closes, according to a similar Nextel filing.
Both leaders also had their base salaries increased Tuesday to $1.4 million, up from $1.2 million. Once the merger is complete, Forsee will be CEO of the combined company, while Donahue will be chairman.
Copyright 2017 The Lawrence Journal-World. All rights reserved. This material may not be published, broadcast, rewritten or redistributed. We strive to uphold our values for every story published.