Columbia, Mo. — After burning Missouri from three-point range all night, Drake Diener's biggest shot of the game ended up being a tip-in.
Diener scored a career-high 30 points and tied his career best with seven three-pointers, leading DePaul to a 75-70 victory over the Tigers in the first round of the NIT on Tuesday night. The tip-in by the 6-foot-5 guard was made with 20 seconds left for a three-point lead.
"I usually spend my life about 14-15 feet out," Diener said. "But I think to say that a big guy likes doing things from the outside, and for guards it's fun to get in the paint and in the mix."
DePaul coach Dave Leitao said he kidded Diener after the game that it was probably his first tip-in in the three seasons they've been together.
"I don't know if I'll have a more special person who happens to be a special player," Leitao said. "That's why you get up and go to the office every day. You know you owe Drake Diener your best effort."
Quemont Greer added 17 points, and Draelon Burns had six assists for the Blue Demons (20-10), who dropped to the NIT after losing three of the last four regular-season games. DePaul will play the winner of Clemson vs. Texas A&M; in the second round.
Linas Kleiza had 23 points, and Thomas Gardner 17 for Missouri (16-17), which had a losing season for the first time since it also was 16-17 in 1996-97. The Tigers have been in the postseason eight straight seasons, but the last two they've lost in the first round of the NIT.
"I thought our team really regressed a little bit," coach Quin Snyder said. "Tonight it was almost as if we kind of thought it was just going to happen for us.
"We didn't defend the way we've defended and we settled for jump shots."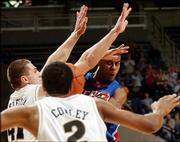 Diener, a senior who averages 13.6 points and is a 45 percent shooter from 3-point range, was 7-for-11 from long range and was the only DePaul player with a 3-pointer. He was at his best at the end, scoring DePaul's final seven points in the last 1:50.
Diener was 11-for-15 overall, topping his previous career best of 28 points against Dayton on March 18, 2004, and he hit seven 3-pointers for the second time in his career. He also had that many at Charlotte on Feb. 16.
"Before the game you think, 'This could be our last game, and you'd better make the most of it and try to give yourself an opportunity to play again,"' Diener said. "We showed that we're here to compete and we're not just going to lay down."
Missouri kept it close despite going almost 7 1/2 minutes between baskets in the second half and shooting 39.7 percent for the game. The Tigers hurt themselves with errant 3-point shooting, going 6-for-25.
"We didn't execute our game plan," Kleiza said. "We kind of turned around from the things we do to win: rebound and play defense. We didn't do none of those."
Missouri finished 14-5 in its first season at the new Mizzou Arena. The game drew 5,997, the lowest of the season.
"I promise we will never feel like this again," freshman point guard Jason Horton said. "I don't think I'll ever feel like this or my teammates will ever feel like this while we're at Mizzou."
Diener had four 3-pointers and 16 points in the first half to help DePaul take a 41-38 lead. DePaul appeared to have taken control with a 19-6 run that put the Blue Demons ahead 35-25 with 4:42 to go in the first half, but Missouri scored the next nine points.
DePaul shot 49 percent, but had trouble shaking Missouri. The Blue Demons' biggest lead in the second half was five points.
Copyright 2018 The Associated Press. All rights reserved. This material may not be published, broadcast, rewritten or redistributed. We strive to uphold our values for every story published.