Damascus, Syria — President Bashar Assad on Saturday restated his readiness for a complete withdrawal of Syrian troops and intelligence agents from neighboring Lebanon, a key U.N. envoy said, adding that he would give the United Nations more details about a timetable for the pullout within days.
Also Saturday, Syria moved about 1,000 soldiers across the border into Syria -- the first to come home since the latest redeployment began.
Assad has been under extraordinary pressure, led by the United States, France and an emboldened Lebanese opposition, to end his country's nearly three-decade political and military hold on Lebanon.
U.N. envoy Terje Roed-Larsen met with Assad on Saturday in the northern city of Aleppo. Roed-Larsen said he was "much encouraged" by the Syrian leader's reassurances and called the meeting "very constructive." He refused to give other details.
"I will present U.N. Secretary-General Kofi Annan with further details of the timetable for a complete Syrian pullout from Lebanon upon arrival in New York early next week," Roed-Larsen said in a statement. "The president has committed to withdraw all Syrian troops and intelligence from Lebanon."
On March 5, Assad told his parliament that Syria's 14,000 troops would be redeployed to Lebanon's eastern Bekaa Valley by March 31, but a complete troop withdrawal would be deferred until after later negotiations.
Two days later, Assad and Emile Lahoud, the pro-Syrian Lebanese president, issued a joint statement saying a full Syrian withdrawal would require further negotiations with a future Lebanese government.
Syria began pulling back some of its troops to the Bekaa on Tuesday. On Saturday, residents in the mountain towns of Aley and Bhamdoun east of Beirut said all Syrian intelligence officers had left those areas and headed toward Hammana, high in the mountains but still in central Lebanon. Agents also remained in Beirut.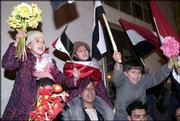 The U.N. Security Council is to receive a report from Annan next month that outlines Roed-Larsen's assessment of Syria's implementation of its September resolution. The council will then consider what steps to take next.
With Syrian forces and intelligence agents headed to the Bekaa Valley and back into Syria, in some cases, Roed-Larsen said the next stage would see all Syrians cross the border.
"The second stage will lead to a complete and full withdrawal of all Syrian military personnel and the intelligence apparatus," the U.N. envoy said.
Copyright 2018 The Associated Press. All rights reserved. This material may not be published, broadcast, rewritten or redistributed. We strive to uphold our values for every story published.