Washington — North Carolina State was told not to seek revenge against Wake Forest. No one -- particularly the Demon Deacons -- could stop the Wolfpack from winning.
Julius Hodge led a balanced attack with 22 points, and Ilian Evtimov added 18 points and seven assists, helping N.C. State stun No. 3 Wake Forest, 81-65, Friday night in the quarterfinals of the Atlantic Coast Conference tournament.
Wake Forest point guard Chris Paul was suspended for the game for punching Hodge in the groin during the teams' previous meeting earlier in the week, giving this early round game the emotion and intensity of a Final Four. The referees seemed to sense that, too, so they made it a point to call touch fouls and to step in whenever there was contact.
"Anger is one letter short of danger," Wolfpack coach Herb Sendek said. "It's important to focus, not get angry. Our guys did a great job of coming together."
In the first half, a technical foul was called on the Demon Deacons bench -- apparently on one of the support staff -- and later Wake Forest guard Justin Gray left for a bit after getting elbowed in the face by N.C. State's Andrew Brackman. Amazingly, Gray was called for a foul.
"We were even warned about it during the game, so I think that opened our eyes a little bit more, saying, 'Hey, we just need to be focused on the game and not get caught up in the physical aspects,"' Wolfpack guard Cameron Bennerman said.
The Wolfpack will play Duke in the semifinals. The fifth-ranked Blue Devils beat Virginia, 76-64, in the final game Friday night.
Paul sat beside the coaches at the head of the bench, looking very dapper in a three-piece, gold suit. He stood near his teammates during their pregame warmups and often offered encouragement or instruction during the game, but the Demon Deacons (26-5) sure could have used him on the court, mostly on defense.
The Wolfpack (19-12) shot 51 percent and consistently beat defenders to the rim on backdoor cuts, with everybody getting a chance in their Princeton-style offense.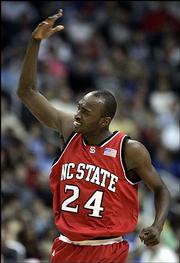 "Nobody's left out," Evtimov said. "Everybody touches the ball. If they don't have the basket, they have the assist. If they don't have the assist, they have the pass prior to the assist, which is just as important."
No. 1 Illinois 68, Northwestern 51
Chicago -- Illinois rebounded from its first loss of the season with a rout of Northwestern in the quarterfinals of the Big Ten tournament. James Augustine led three players in double figures with 15, and Deron Williams had eight assists and eight points, including a spectacular layin midway through the second half. Luther Head had 14 points, and Roger Powell Jr. added 11. Big Ten player of the year Dee Brown had five points and six assists.
No. 2 North Carolina 88, Clemson 81
Washington -- Raymond Felton made the go-ahead three-pointer with the shot clock winding down in the final 90 seconds, and North Carolina avoided the biggest upset in ACC tournament history.
Since the conference expanded to nine teams in 1992 -- it since has gone to 11, and Boston College joins next season -- no ninth-seeded team has beaten the No. 1 seed. The Tar Heels (27-3) clearly were on the ropes, trailing by 13 points with about nine minutes left.
Felton had 24 of his career-high 29 points in the second half and scored the final 10 points for North Carolina.
No. 4 Kentucky 76, Tennessee 62
Atlanta -- Kelenna Azubuike scored 18 points, Patrick Sparks added 16, and Kentucky earned a Southeastern Conference tournament quarterfinal victory. Kentucky (24-4), which already won the league's regular-season title, had a double-digit lead on Tennessee (14-17) before the game was six minutes old. The Wildcats stretched the margin to 34-14 with more than five minutes left in the opening half.
No. 5 Duke 76, Virginia 64
Washington -- Duke assumed its customary spot in the ACC tournament semifinals despite a horrid shooting performance by standout guard J.J. Redick. Redick, who came in averaging a team-high 22.6 points, missed 11 of his first 12 shots and finished 4-for-17, including 3-for-12 from three-point range. But Daniel Ewing and Lee Melchionni picked up the slack by scoring 16 points apiece. Sean Singletary scored 16, and Devin Smith had 13 for Virginia (14-15), which may have played its final game under coach Pete Gillen.
No. 6 Louisville 74, UAB 67
Memphis, Tenn. -- Francisco Garcia broke a tie with a three-pointer with 3:36 left, and Louisville held off Alabama-Birmingham in the semifinals of the Conference USA tournament for its eighth straight victory. The top-seeded Cardinals (28-4), headed to the Big East next season, are trying to become the only C-USA team other than Cincinnati to win the tournament and regular-season titles in the same year.
No. 8 Arizona 90, Oregon St. 59
Los Angeles -- Channing Frye led five teammates in double figures with 17 points, and Arizona used a 12-0 run at the start of the second half to pull away in the Pac-10 semifinals. The top-seeded Wildcats (27-5) have won a record four tournament titles, and their 15-3 tourney record is the best. It was their second straight blowout victory, and the 31-point winning margin set a record, breaking Arizona's own mark of 26 points in a 93-67 victory over Oregon State in the 1988 title game. Salim Stoudamire added 17 points for the Wildcats, and Jawann McClellan had 15 off the bench.
No. 16 Syracuse 67, No. 12 Connecticut 63
New York -- Hakim Warrick had 26 points and 10 rebounds, and Syracuse held on to beat Connecticut in the Big East semifinals.
The third-seeded Orange (26-6) advanced to the title game for the first time since 1998 and will try to win a fourth championship -- first since 1992.
Charlie Villanueva had 18 points and 11 rebounds for the Huskies (22-7), who had their string of three straight championship games ended. Connecticut, the defending national champion, won the Big East in 2002 and 2004.
Marcus Williams had 11 points and seven assists for Connecticut, while Josh Boone had nine points and 13 rebounds. The Huskies shot 34 percent for the game (23-for-67).
Iowa 71, No. 13 Michigan State 69
Chicago -- Iowa came into the Big Ten tournament knowing it had to win four games in four days to make the NCAAs. The Hawkeyes are halfway there. Alan Anderson, a 90-percent free-throw shooter, missed a pair with less than seven seconds left, and little-used backup Jack Brownlee came up with a huge rebound as the Hawkeyes (21-10) hung on to beat Michigan State (22-6).
No. 15 Utah 73, UNLV 67
Denver -- Andrew Bogut had 25 points and 12 rebounds, and Utah nearly blew a 22-point lead before holding on against in the Mountain West semifinals. Utah (27-4) seemed ready to roll into the championship game before nearly collapsing against UNLV's pressure defense. The Utes got it together just in time -- thanks to Bogut -- pulling out a harder-than-it-should-have-been victory.
No. 18 Pacific 63, CS Northridge 61
Anaheim, Calif. -- Guillaume Yango had 15 points and eight rebounds, and Tyler Newton made two late free throws to help Pacific hold off Cal State Northridge in the Big West semifinals. Pacific (26-2), which extended the nation's longest winning streak to 22 games and ran its Big West string to 34, is seeking its second straight conference title.
West Virginia 78, No. 19 Villanova 76
New York -- Mike Gansey made two free throws with 0.2 seconds to play to send West Virginia into its first Big East tournament championship game. Gansey, a 72 percent free-throw shooter this season, made both to keep the tournament run alive for West Virginia (21-9), the first No. 8 seed to reach the title game. Randy Foye had 22 points for the fourth-seeded Wildcats (22-7), who had their eight-game winning streak snapped.
No. 20 Alabama 69, Mississippi 52
Atlanta -- Earnest Shelton scored 26 points, most of them on a career-high eight three-pointers, and Alabama cruised into the semifinals of the SEC tournament. The Crimson Tide (21-9) buried Ole Miss from beyond the arc, thwarting every comeback attempt with a long-range shot.
No. 23 Wisconsin 60, Ohio State 49
Chicago -- Zach Morley scored a career-high 23 points, giving Wisconsin the offensive punch it needed in the Big Ten quarterfinals. The Buckeyes (20-12) are going home for good, no chance for the NCAA or NIT because of a self-imposed school ban on postseason play.
Copyright 2018 The Associated Press. All rights reserved. This material may not be published, broadcast, rewritten or redistributed. We strive to uphold our values for every story published.