Kansas City, Mo. — Once he finally started scoring, Linas Kleiza didn't want to stop.
Held scoreless for almost 17 minutes of the first half, Missouri's 6-foot-8 junior broke out for 26 points Thursday, leading the Tigers past Nebraska, 70-67, in the first round of the Big 12 Conference tournament.
Joe McCray, minutes after breaking the Big 12 freshman record for three-pointers in a season, launched one from behind the arc with three seconds left. But it rattled in and out, giving the Tigers their third victory this season over the Huskers.
Kleiza, the Tigers' leading scorer and rebounder, was held in check by Nebraska's zone defense until he finally hit a short jumper late in the first half. His 26 points were the most scored in a Big 12 tournament game against Nebraska (14-14).
"My teammates started looking for me more," he said. "They were able to find me before the half, and I got it going. I was able to get some good points inside."
In the semifinals today, the Tigers (16-15) will play conference co-champion Oklahoma, which lost, 68-65 in overtime, Feb. 12 at Missouri.
"It was such a close game when we played them the last time," Missouri's Jimmy McKinney said. "We have to rebound and make it tough on the defensive end."
It was the seventh straight tournament loss for the Huskers and their sixth straight in the first round. Coach Barry Collier, who has been catching criticism after going 70-76 in his first five years, said he would leave all discussion about his job status to athletic director Steve Pedersen and assistant AD Marc Boehm.
Iowa State 77, Baylor 57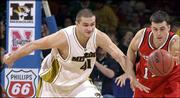 Kansas City, Mo. -- Rahshon Clark scored a career-high 20 points, leading Iowa State. Jared Homan added 17 points for the Cyclones (18-10), who won for the 10th time in their last 12 games and will meet Texas Tech in today's semifinals.
Baylor (9-19) ended its season on a 14-game losing streak. The Bears have not won a first-round Big 12 game since their surprising run to the semifinals in 2001.
Baylor's Aaron Bruce, who came in as the nation's top freshman scorer at 18.4 points per game, was held to 12 points but was still the Bears' leading scorer.
Colorado 81, Texas 69
Kansas City, Mo. -- Richard Roby had 17 points and 10 rebounds, and Colorado overcame horrible first-half shooting. The Buffaloes (14-15), who shot just 13-for-36 in the first half but were 14-for-27 after the break, are the first No. 11 seed to advance out of the opening round in the tournament's nine-year history.
They will meet third-seeded Oklahoma State in the second round today.
The sixth-seeded Longhorns (20-10) dropped to 1-1 in first-round games.
Copyright 2018 The Associated Press. All rights reserved. This material may not be published, broadcast, rewritten or redistributed. We strive to uphold our values for every story published.