New York — Surgeons successfully removed fluid and scar tissue from former President Clinton's chest cavity Thursday, cleaning up complications from his heart bypass operation of six months ago.
Clinton was "awake and resting comfortably" after four hours of surgery, said Herbert Pardes, president of New York-Presbyterian Hospital/Columbia University Medical Center. "We expect Mr. Clinton to be walking" within 24 hours.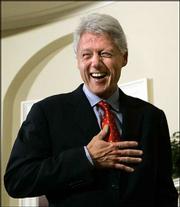 His wife, Sen. Hillary Rodham Clinton, and daughter, Chelsea, were with him and were said to be elated by the successful surgery and a prognosis from one of his surgeons for "even better than a full recovery."
Pardes said Clinton, 58, was expected to spend three to 10 more days in the hospital. A tube to drain fluid from the left lung will be removed in two to five days.
In a rare complication from his bypass surgery in September, scar tissue had developed because of fluid buildup and inflammation, causing compression and the collapse of the lower lobe of Clinton's left lung.
Surgeons removed a thick rind of scar tissue, in some places up to a third of an inch thick, which made it impossible to use a minimally invasive videoscopy. Instead, surgeons performed more traditional surgery.
"It was like peeling an orange," said Dr. Joshua Sonett, one of the surgeons, about removing the tissue.
The operation was done at the same facility where Clinton underwent open-heart surgery. Doctors described it as a low-risk procedure, and Clinton himself called it routine.
Still, such problems crop up in only a faction of 1 percent of bypass cases; doctors said the combination of fluid and scar tissue had decreased Clinton's left lung capacity by 25 percent. The former president first noticed the problem when he suffered shortness of breath during his daily four-mile walk.
Copyright 2018 The Associated Press. All rights reserved. This material may not be published, broadcast, rewritten or redistributed. We strive to uphold our values for every story published.